Estimated read time: 2-3 minutes
This archived news story is available only for your personal, non-commercial use. Information in the story may be outdated or superseded by additional information. Reading or replaying the story in its archived form does not constitute a republication of the story.
John Hollenhorst reporting The toll of living on the streets came into sharp focus tonight as a vigil was held for the homeless.
It's literally a death-toll. But when added up, the numbers for Utah surprises even the experts.
The vigil in Pioneer Park was to honor those who have died. One participant is a story in himself. He lived on the streets for years and then pulled himself out of it. He says that saved his life.
They sang, and they lit candles. They made speeches about people on the street who have died.
Pamela Atkinson, Advocate for Homeless: "Many of the deaths are preventable. Homeless people are three or four times more likely to die than the general population."
Tony Martinez read the names.
Tony Martinez: "Christopher Dresser, Dennis Fernandez..."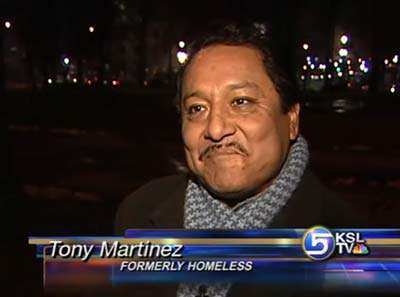 42 homeless people are known to have died in Utah this year. Martinez feels it in his gut.
Tony Martinez, Formerly Homeless: "I could be on that list. But I'm not. Because I have a life. And I have a lot of people that really care."
He knows the brutal conditions on the streets. He lived there for 6 years, sleeping wherever.
Tony Martinez, Formerly Homeless: "Out on the street. Parks. Hospitals. Bus stations. The field." (reporter: "How did you break out of it? What turned you around?") : "I got sick. And the doctor told me if I continued drinking I'd be dead in six months."
Drink does kill on the streets. But many homeless people die of other causes: Chronic illness, Mental illness, AIDS, Accidents, Murder.
The average age of death: 52 instead of 77 for the rest of us.
Martinez says he had a lot of help, and turned his life around.
Tony Martinez, Formerly Homeless: "I got married. And I've been clean and sober for almost two years."
Now he counsels others who are still trapped in the life of early death.
Tony Martinez, Formerly Homeless: "If there's hope for me there's hope for everybody out there to make it."
Organizers hope the event will spur Utahns to think charitably, and to support the agencies and people that help keep the homeless alive, and try to improve their lives.
×
Most recent Utah stories