Estimated read time: 2-3 minutes
This archived news story is available only for your personal, non-commercial use. Information in the story may be outdated or superseded by additional information. Reading or replaying the story in its archived form does not constitute a republication of the story.
Gene Kennedy reportingA UPS semi-truck goes up in flames, leaving hundreds of Christmas gifts scorched.
The truck was heading for the UPS headquarters in West Valley from Idaho. But along the way, the driver noticed vibrations coming from the truck. He pulled over and checked the wheels, didn't notice a problem, so he kept going.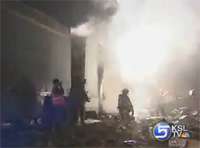 By the times he reached Kaysville, the tires caught fire and the flames spread to a tractor trailer attached to the truck, with hundreds of Christmas presents inside. A brake line problem may have caused the fire.
Chief Brett Larkin, Kaysville Fire Dept. "As he gets here, his tires are on fire, so he immediately pulled over, attempted to put them out, Couldn't put them out, and the tires burned up into the trailer, and caught all the contents on fire."
The flames scorched many gifts. Others were damaged by smoke and water. And now UPS has to find the recipients and break some unfortunate news.
Chief Brett Larkin, Kaysville Fire Dept. "It'll be hard for them to get their packages after this, tell people their packages are not going to arrive."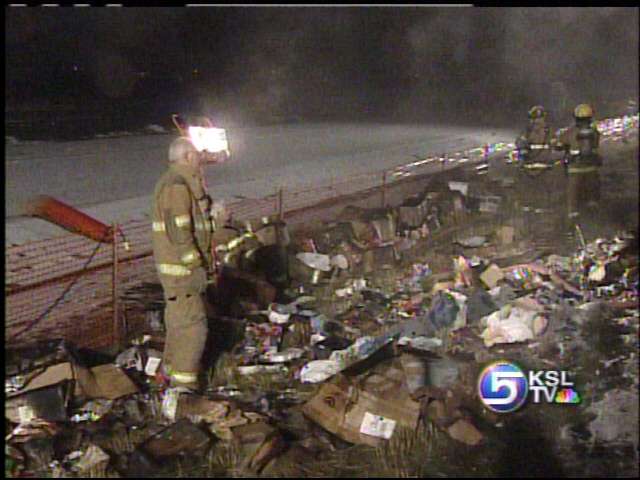 Fire officials are optimistic some of the packages can be salvaged. But it will take hours for UPS and fire officials to determine that.
Right now at 20 UPS employees are sifting through burned packages. Those packages have tracking numbers, so UPS will be able to find out who they belong to and hopefully get a hold of the recipients today.
Stephen Goodrich, UPS Community Relations: "We've got the trailer on site, we've got a team of people that are addressing each individual package, one by one. With the advanced technology we have, we have the ability to know where each of those package came from, and we will be contacting each of those individuals on a one-to one basis."
The good news to come of all this is that fire fighters kept the blaze from spreading to a second trailer, which they originally said contained some hazardous materials. We now know those materials were just a few household hazardous items, like hairspray.
UPS suspects the fire was caused by problems with the truck's brakes.
×
Most recent Utah stories