Estimated read time: 2-3 minutes
This archived news story is available only for your personal, non-commercial use. Information in the story may be outdated or superseded by additional information. Reading or replaying the story in its archived form does not constitute a republication of the story.
John Daley ReportingPresident Bush ignited a political firestorm over the weekend when he admitted he personally signed off on domestic surveillance of Americans, including wiretapping, without getting a court order. An exclusive new KSL-TV poll finds Utahns are sharply divided about it.
Our exclusive new Survey USA poll for KSL-TV shows a majority support the President's position, but a broad spectrum of people are raising red flags, including people who protested the Iraq War here earlier this year and the conservative Deseret Morning News.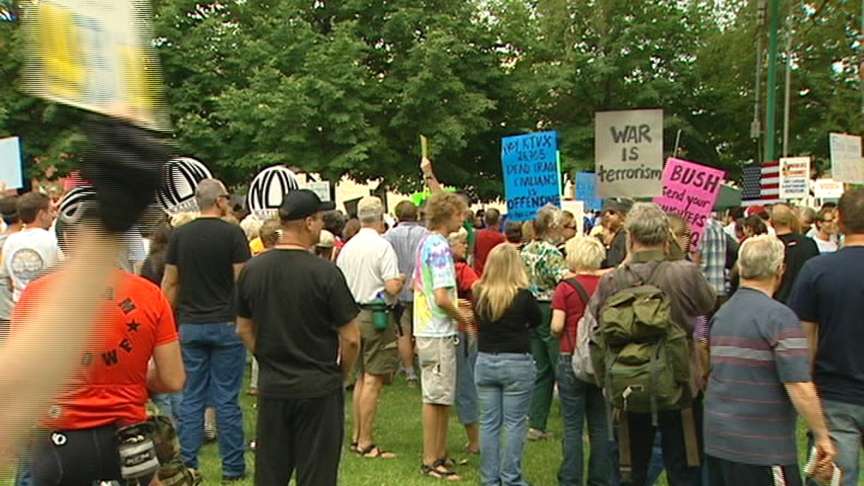 New questions are emerging after reports the Bush administration has, on a number of occasions, initiated surveillance operations without first getting approval from a secret court as required by law.
Pres. Bush: "I swore to uphold the law. Do I have the legal authority to do this? The answer is absolutely."
Not everyone agrees with that. On its editorial page The Deseret Morning News criticized the President.
Jay Evensen, Editorial Page Editor Deseret Morning News: "How many innocent Americans are having their phone calls and emails looked at when they ought to feel secure their government doesn't have right to do that unless it has a real probable cause and obtains a warrant from a court."
In an exclusive new KSL-TV poll by Survey USA we asked if the US government thinks a citizen in America is in contact with Al-Qaida, should the government need a warrant before they can monitor that person's international phone calls? 44% say yes, 53% say no.
In August a large anti-war rally was held in Salt Lake. Recent media reports confirm government surveillance of peaceful anti-war groups nationwide, though there's no indication it happened here.
Asked if the government should or should not conduct surveillance on groups that protest the Iraq war, 52% say the government should while 40% say no. 8% aren't sure.
Some participants at the Utah rally say the news domestic surveillance is happening without a court review is unsettling.
Dr. Lewis Borgenicht, Anti-War Protester: "I'm not a terrorist. My colleagues and friends are not terrorists. Although maybe we are by the definition of the Bush administration because we are not accepting their perspective, but that's even more disturbing."
This story is far from over. The President says the practice will continue, but we could see hearings in Congress on the issue sometime after the holidays.
×
Most recent Utah stories