Estimated read time: 2-3 minutes
This archived news story is available only for your personal, non-commercial use. Information in the story may be outdated or superseded by additional information. Reading or replaying the story in its archived form does not constitute a republication of the story.
Paul Nelson, KSL NewsradioThe wait is coming to a close for people around the country who have been camping out to get the iPhone. Critics say it's a very cool machine, even though there are some things they don't like.
Amy Thaut is part of a family that's been camping for an iPhone at the AT&T Cingular Store at University Mall since Monday. She says, "It's the newest and greatest. It's going to be the best iPod. It's going to be the best cell phone."
Amy says she actually does have a life, but she's standing in for her brother-in-law who may or may not. She says, "He's probably a little crazy, but he thinks it's a worth while endeavor."
Actually, Amy's husband is paying his brother $500 to stand in line for him. Apple is so protective of this phone, no one in Utah, not even the people selling the phone, have seen one until today.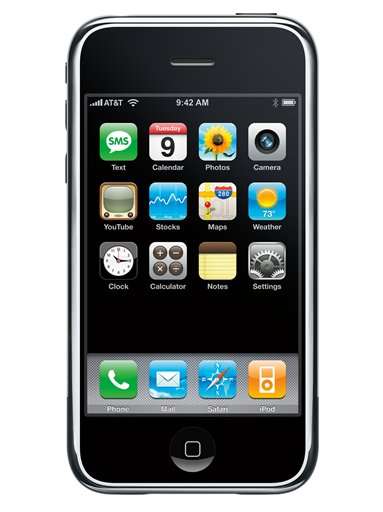 So, really, what's so special about this thing? We all know it's a cell phone, mini-computer and mp3 player, which we've all seen before. But the phone does have a few bells and whistles that set it apart; for example, instant weather reports. An Apple spokesperson says, "To check the weather forecast in a city, start by tapping on the weather button, and then you can flick through different cities by dragging your finger left or right." It has the same feature for instant stock quotes as well.
Plus, it has maps for you to find anything you need, like restaurants or stores. Then it tells you how bad traffic is on your way there. The Apple spokesperson says, "Tap on the traffic button, and get an up to date view of the local conditions. Green lines indicate everything is flowing smoothly, while yellow and red lines mean 'problems ahead.'"
The one thing that stands out for many is the touch screen, but it does get a little complicated. You have to tap, double-tap, tap and double-tap with two fingers, flick, drag, and even pinch this thing to get everything working. Politis Communications Spokesman Curtis Gasser says that could take some getting used to. Gasser says, "There's absolutely going to be a learning curve."
Gasser says many customers won't like it because you can't feel the buttons you're hitting to type. Plus, there are always problems with new technology. He says, "With any new technology, it's always better in my opinion to wait until the second generation."
Gasser says they may have all the kinks worked out by then. Besides, the second wave of phones may be cheaper as other companies come out with respectable knockoffs to the iPhone, maybe even by Christmas.
There is one common complaint about the iPhone. Some people say they don't like how it's connected with AT&T.
×
Related links
Most recent Utah stories