Estimated read time: 2-3 minutes
This archived news story is available only for your personal, non-commercial use. Information in the story may be outdated or superseded by additional information. Reading or replaying the story in its archived form does not constitute a republication of the story.
Sandra Yi reporting The father of a young rape victim hopes a reward will lead to the arrest and conviction of the alleged suspect.
Victim's Father: "It's against the law, and it's wrong. She's just a baby, and it hurts me."
The man says his 13-year old daughter is now pregnant.
You may recall the story first made news last month, when a school bus driver was arrested for molesting the man's 13-year old daughter.
Well, now that bus driver is not the only man suspected of victimizing the girl.
Victim's Father: "If anybody's out there, make my Christmas, catch this guy."
A desperate plea from the father of a 13-year old rape victim. The young girl is now pregnant.
Victim's Father: "It's a no win situation for my daughter and my family, to become a grandfather this way."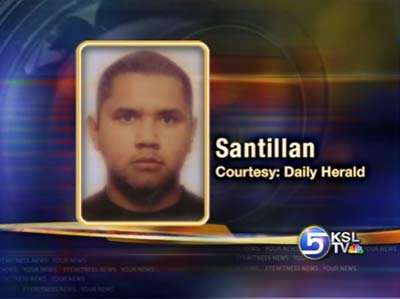 The alleged suspect is 22-year old Arturo Santillan. He lived in the victim's neighborhood. The girl told police they had sex, in Santillan's home last month. It happened more than once.
Victim's Father: "He didn't do it once, he did it 3 times, to my daughter."
Victim's Father: "He put a lot of false ideas in her head, and just mesmerized her, and just lured her down there."
Santillan isn't the only suspect involving the girl. Last month, Police arrested Christian Bair for molesting the teen in her home.
Bair was a bus driverfor the Provo School District.
The victim's father admits, the acts were consensual with both men.
But because of the victim's age, it's against the law.
Victim's Father: "She feels like it's her fault that this all happened, and it's not."
Victim's Father: "They're supposed to be men, and to pick on little girls, they're sick. And that's why the book needs to be thrown at them hard, to make an example."
In a related case, police also arrested Gustavo Rene Martinez-Ayala. He was accused of sex crimes against the victim's 12-year old friend.
Meantime, police are still looking for Santillan. The victim's father is now putting up his own money, in hopes of finding him.
Victim's Father: "It's going to be hard for me to do, but I'm going to do it, put a thousand dollar reward, for him to be caught."
Provo Police say among the three men we mentioned in the story, there are 4 victims.
As for Santillan, police are waiting for prosecutors to file charges so they can get an arrest warrant.
If you have any information, call Provo Police.
×
Most recent Utah stories