Estimated read time: 2-3 minutes
This archived news story is available only for your personal, non-commercial use. Information in the story may be outdated or superseded by additional information. Reading or replaying the story in its archived form does not constitute a republication of the story.
John Hollenhorst ReportingA battle for control of Utah's rivers -- it's aliens versus aliens! It may sound like we made that up, but it's absolutely true. Millions of Asian beetles have been imported to eat a nasty invading plant, and now the deadly munching is creating a fire hazard.
We're always accused of wasting water, but this alien plant, the tamarisk, is worse. Just one tamarisk plant consumes 300 gallons of water a day and millions have sprouted along western waterways. That's why Utah is importing the tamarisk's natural enemy.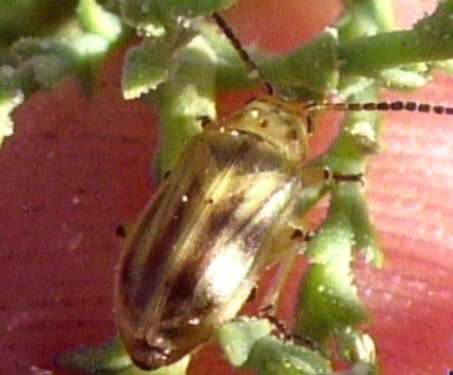 The invading species has taken over riverbanks throughout Utah. On the Jordan River, the tamarisk is so thick in places, it's like an impenetrable wall.
Ben Bloodworth, with the Utah Department of Natural Resources, said, "Deer try to push through it but even have trouble. So for a person to access a river that's completely covered in tamarisk is extremely difficult."
Tamarisk trees were deliberately imported decades ago for erosion control, but the thirsty Asian plant quickly made itself unwelcome.
"We have a dramatic effect on water tables in areas where we have lots of heavy tamarisk infestation," Bloodworth said.
If we could get rid of all the tamarisk in the west, experts say it would free up enough water for 20 million people. Efforts to eradicate it near Moab have had spotty success until now, but Tamarisk plants lately have been turning brown. They're being killed or badly injured by the thousands along miles of the Colorado River.
The weapon? You can see them crawling around, a tiny beetle imported from Kazakhstan.
Tim Carlson, with the Tamarisk Coalition, says, "[They're] pretty good at just eating tamarisk. They do nothing else. They work for free, so they do really good work. After about four or five years, the plant's dead."
Alien beetles were also imported to the Salt Lake Valley last year. More bugs will be brought in this summer.
Bloodworth says, "The beetles seem to be extremely effective."
In fact, the beetle damage is so impressive near Moab, they've had to institute fire restrictions and start hauling away the dead tamarisk.
Brian Keating, with the U.S. Bureau of Land Management, said, "In addition for other areas, the fire danger we've determined is an extreme fire risk right now. So it's potentially a very deadly situation both for the public and firefighters."
So are we just swapping one alien species problem for another? The beetles theoretically eat ONLY tamarisk and will die out once the tamarisk is gone.
×
Most recent Utah stories