Estimated read time: 2-3 minutes
This archived news story is available only for your personal, non-commercial use. Information in the story may be outdated or superseded by additional information. Reading or replaying the story in its archived form does not constitute a republication of the story.
Keith McCord ReportingThis is the time of year when we're all doing a little more singing than usual, caroling at church, a party and other special events. And let's face it, not all of us can carry a tune.
But there's hope! BYU Voice Professor Clayne Robison says he wants to change the thinking that only talented people can sing. He says anyone can hit the high notes.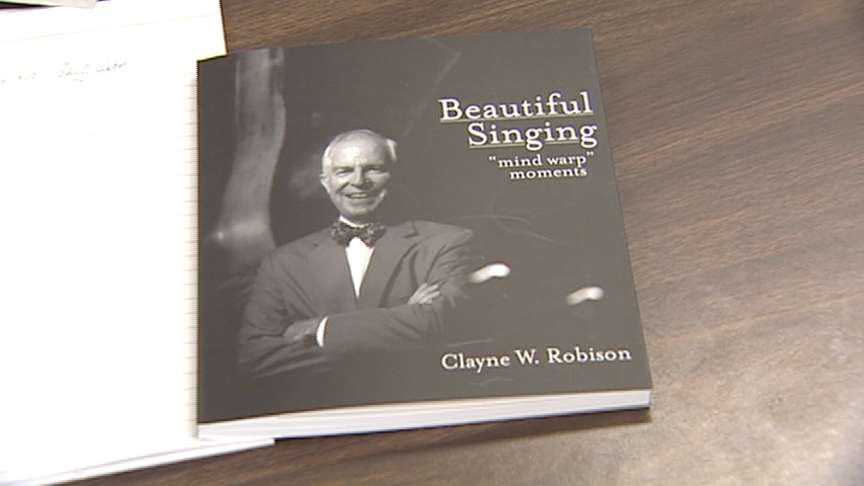 Beautiful music sung by current and past students of BYU voice professor Clayne Robison. Listening to these men and women, you would think that singing came naturally to them. Not so for Brett Rasmussen, who always liked to sing in front of others.
Brett Rasmussen, Voice Student: "Every now and then they would say I was fun to watch on stage, but no one ever said, 'Gee, keep singing Brett.'"
Now, several years later, they do. Part of the reason is how Professor Robison teaches. He assembles groups of students and puts them through a series of exercises. The students call it "boot camp".
Clayne Robison, Voice Professor, Brigham Young University: "I've created an environment of give and take and fun and excitement, but it's pretty disciplined. And I ask them to do some pretty strange things, and I expect them to do them!"
Professor Robison has just put together a new DVD called "Beautiful Singing", which features a group of students going through his teaching methods. It's all about physics, he says. Seven basic principles dealing with posture, breathing speed and flow of breath. If everything works together, there's no way you can't sing well!
Clayne Robison, BYU Voice Professor: "Everybody agrees that when a voice is beautiful, everybody knows it's beautiful."
Professor Robison says when teaching voice students in a group setting, it creates a competitive bond. You can see how others are singing and that makes you strive to be that much better. This is the Cliff Notes version of how he teaches-- he has a website at www.BeautifulSinging.com.
×
Related links
Most recent Utah stories