Estimated read time: 2-3 minutes
This archived news story is available only for your personal, non-commercial use. Information in the story may be outdated or superseded by additional information. Reading or replaying the story in its archived form does not constitute a republication of the story.
John Hollenhorst ReportingThirteen bighorn sheep are about to get a new home. They were captured today in a place that's visible from downtown Salt Lake, which is now becoming an important nursery for the seldom-seen species.
Wildlife workers and volunteers in hiding suddenly rush into action. A capture net has just fallen on 13 Bighorns. The critters are about to leave a place they may not miss.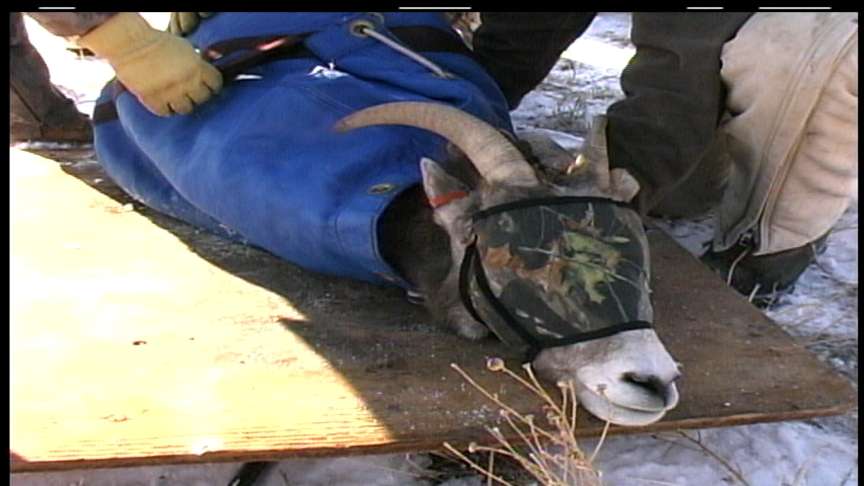 Leslie McFarlane, Utah Div. of Wildlife Resources: "I don't know if you can miss biting flies on antelope island. But, yeah, I think they'll be happy to try a new place."
They're being packed off by helicopters and trailers to the Stansbury Mountains west of Tooele. A decade ago, Antelope Island had no Bighorns until the state brought in 29 from Canada and Nevada.
Craig McLaughlin, Utah Div. of Wildlife Resources: "Since then the population has grown. It now numbers 175 to 200 sheep."
Now they're reducing the herd by 50 or so.
Leslie McFarlane: "There are a couple that were a little bit stressed from the handling. And their temperatures got a little bit high. But we've been able to put some snow on them just to cool them down."
Although it may seem like they're undoing what they did before, that's not it at all. This was actually the plan right from the beginning.
Craig McLaughlin: "The population was started to function as a nursery herd just for this purpose. Every once in a while we'll come in and do a capture operation like this and use them to start new populations elsewhere."
The Bighorns will get a second chance in other places where early pioneers wiped them out, but Antelope Island will remain one of the best places to see them.
Craig McLaughlin: Bring a good set of binoculars or a spotting scope and start looking over the higher elevations. Sooner or later you'll run into a band of sheep."
The population goal for the island is just under 150 Bighorns.
×
Most recent Utah stories