Estimated read time: 2-3 minutes
This archived news story is available only for your personal, non-commercial use. Information in the story may be outdated or superseded by additional information. Reading or replaying the story in its archived form does not constitute a republication of the story.
Ashley Hayes ReportingThere's contention among state lawmakers on how to adhere to Governor Huntsman's environmental initiatives while still developing Utah's traditional energy sources.
Coincidentally, Salt Lake is going to get part of a $2.5 million federal grant for being named one of the country's "Solar America cities." The city will receive $200,000 from the federal government to increase the use of solar power.
The U.S. Energy Department says the push comes from the president to increase the country's energy security and become less dependent on foreign oil.
Some state lawmakers are unhappy with the move, and say promoting renewable energy could hurt Utah's coal and oil shale industries.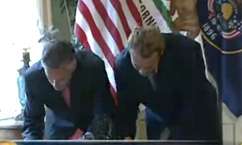 Last month, Governor Huntsman joined California Governor Arnold Schwarzenegger in signing the Western States Initiative, which calls for western states to set limits on greenhouse gas emissions in an effort to reduce global warming.
On May 21, Schwarzenegger said, "What used to be the industrial revolution now will be the clean, green technology revolution."
Huntsman said, "More than anything else, we're setting the stage for our future. This is all part of the legacy that we're handing down to the next generation."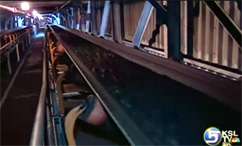 Ninety-five percent of Utah's electric power comes from coal, with Utah supplying a major amount of electricity to California. So now some legislators are worried the state is going in the wrong direction, and will jeopardize the state's natural resources to go green.
The state's new energy advisor says they are committed to developing all of Utah's energy sources -- which include wind, solar, and geothermal energy -- and that by moving forward with developing renewable energy sources Utah will not be lumped into a "one size fits all federal promgram."
Cities selected for the grant have high electricity demand, a diverse geography and are committed to using solar power.
×
Related links
Most recent Utah stories