Estimated read time: 3-4 minutes
This archived news story is available only for your personal, non-commercial use. Information in the story may be outdated or superseded by additional information. Reading or replaying the story in its archived form does not constitute a republication of the story.
OGDEN — Meg Johnson's motto is: "When life gets too hard to stand, just keep on rollin'."
Unfortunately, Johnson isn't able to roll as freely as she could just a few days ago because someone stole her vehicle along with about 45 homemade Christmas gifts — marshmallow treats — that her husband had just loaded in the car to deliver to neighbors and friends.
Her car and her Christmas gifts now gone, Johnson said rather than get angry, "after they took it, we were both laughing really, really hard. My husband said, 'Why didn't they take my car?' If I stopped laughing I was going to cry. We just had to keep laughing."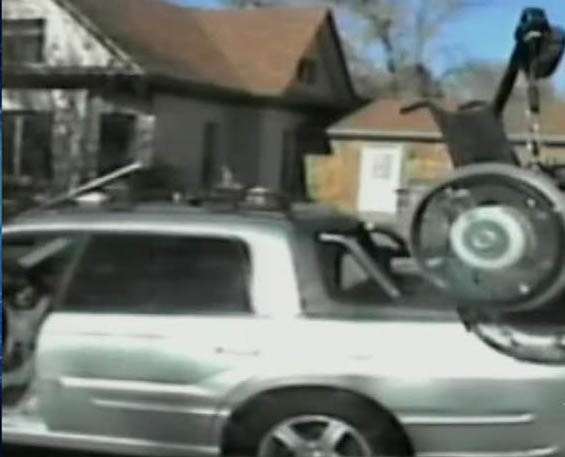 Johnson's upbeat attitude about the situation is not surprising. Johnson is an accomplished motivational speaker. In 2004, she was paralyzed in a hiking accident. She cannot feel her legs and has limited use of her hands and arms.
But rather than forever sit in sorrow in her wheelchair, Johnson became an inspirational speaker and tries to do as many "normal" activities as she did before.
Videos of Johnson going grocery shopping, baking and getting into her car — the one that is now missing — can be found on her web page.
Her car is a silver Subaru Baja, a vehicle she personally picked because she didn't want to be in a truck or a minivan. Her vehicle was modified so she would be able to get in and out of it on her own as well as drive it.
"It's the first accommodated Baja in the entire world," she said proudly. "It is so cool."
Now, Johnson and her husband would like to get her specially modified car back.
On Dec. 22, about 7:20 p.m., Johnson's husband, Whit, was making several trips in and out of the house to the car, putting Christmas gifts inside.
Because she is a quadriplegic, Johnson's body temperature can't be controlled normally, so her husband started the car to get it warm.
Just prior to the vehicle being stolen, the Johnsons noticed a couple of men walking in dark coats across the street.
Johnson's husband put another round of treats into the car and had just stepped back inside the house to get Meg.
"It was not even a second, it was nothing almost. The door wasn't even all the way closed," she said. "He heard the engine rev, he looked out the window and saw the tail lights. He came back in and said, 'Someone stole the car.'"
The car is very recognizable. It has a crane in the back and a faded bumper sticker, "I'd rather be walking."
Always the optimist, Johnson said she was happy no one was hurt even if the car was gone, "My husband takes care of me, so I don't have to worry."
Johnson was able to remake five treats and deliver those.
As for the ones that were stolen?
"I sincerely hope (the car thieves) are eating the marshmallows and enjoying them and appreciating them and how cute they are," she said.
What Johnson hopes will happen now is that the Grinch or Grinches who took her car will have their hearts grow and return the Baja.
Anyone with information on Johnson's car can either call police at 801-629-8221 or contact Johnson through her website.
A stranger, who asked to remain anonymous, is offering $1000 to the person who finds the car.
------
Story compiled with contributions from Pat Reavy and Sandra Yi.
×
Photos
Most recent Utah stories