Estimated read time: 3-4 minutes
This archived news story is available only for your personal, non-commercial use. Information in the story may be outdated or superseded by additional information. Reading or replaying the story in its archived form does not constitute a republication of the story.
SALT LAKE CITY — A former clerk for the town Tabiona is now facing the possibility of federal prison time in connection with her alleged embezzlement of an estimated $200,000 from the town's coffers.
Angela Betty Curry, 36, was charged Tuesday by the U.S. Attorney's Office for Utah with mail fraud. If convicted she faces up to 20 years in prison and a possible fine of up to $250,000.
Curry wrote more than 100 checks to herself from April 2006 to August 2010 on the town's bank account, according to charging documents. The checks required signatures from the town's mayor and one designated town council member. Curry is accused of forging those signatures and recording the transactions as town expenses.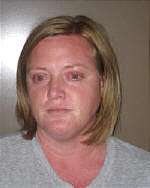 The mail fraud charge centers around the use of the falsified ledger sheets to create the town's 2009 annual financial report, which was mailed to the Utah State Auditor's Office. That report, federal prosecutors allege, "perpetuated (Curry's) scheme to embezzle funds."
Uintah County prosecutors are expected to dismiss the state charges against Curry now that federal prosecutors have filed their mail fraud case. Curry is scheduled to make her first federal court appearance Jan. 18.
The investigation into Curry began in August when Tabiona's mayor contacted the Duchesne County Sheriff's Office. The mayor turned over 72 checks that Curry had forged, according to state court records.
Curry was arrested and charged in 8th District Court with 15 counts of theft and 15 counts of forgery. The charges are all third-degree felonies.
The case was turned over to the Uintah County Attorney's Office for prosecution because Curry is the wife of a Duchesne County sheriff's deputy. The Vernal Police Department was asked to conduct a follow-up investigation as well.
Investigators found no evidence that Curry's husband was aware of his wife's alleged criminal activity, said Vernal Police Sgt. Vance Norton. They have also been unable to determine what Curry did with the money she is accused of embezzling, he said.
"I think that's the question everyone is asking," Norton said. "She didn't spend it on her family, I can tell you that."
A police search of the Curry family home indicated that they were living on "a cop's wages," Norton added.
Local investigators decided to take the case to the FBI, Norton said, because of the resources available at the federal level. Those resources allowed authorities to complete an examination of the town's financial records in two days, the sergeant said, a process that would have taken Vernal police much longer.
Another reason for pursuing federal charges against Curry was a desire to demonstrate to the public that she was not receiving special treatment because she is married to a deputy, Norton said. There was also a hope that the more serious penalties in the federal court system would deter others from committing similar crimes, Norton said, noting that Curry is the second Tabiona town clerk to be charged with stealing public funds in recent years.
In April 2003, Graceann Hiseman, 43, pleaded guilty to felony charges of unlawful dealing with property by a fiduciary and forgery. Her pleas were later dismissed as part of an agreement with prosecutors after she repaid the town $111,735.
Tabiona Mayor Ronnie Giles said he was pleased to hear federal prosecutors had charged Curry.
"It makes me feel a lot better," said Giles, who expressed some frustration at the slow progress of the case.
The mayor said he has enlisted the help of the Uintah Basin Association of Governments to further strengthen the town's financial controls to prevent future misappropriation of funds.
"We thought we'd done that the last time it happened (in 2003)," Giles said. "But (Curry) was too sly for us. She still got the money.
"There's no guarantee it will never happen again," he added. "But it's going to be a lot harder."
E-mail: geoff@ubstandard.com
×
Related stories
Most recent Utah stories