Estimated read time: 1-2 minutes
This archived news story is available only for your personal, non-commercial use. Information in the story may be outdated or superseded by additional information. Reading or replaying the story in its archived form does not constitute a republication of the story.
Courtney Orton ReportingThe mauling of an 11-year-old by a black bear is raising some serious questions.
The grandfather of the boy killed by a bear says if officials would have warned his family of a dangerous bear in the area, it could have saved his grandson.
The Forest Service and Division of Wildlife Resources say they stuck to their policies and did all they could.
The big question is whether that campsite should have been closed after a bear tore into a tent less than 24 hours earlier, or if campers at least should have been warned.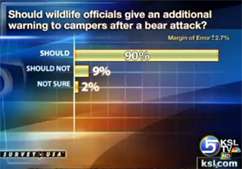 An exclusive Survey USA poll for KSL TV found 90 percent of people think the DWR should give additional warnings to campers after initial bear attacks.
In general, though, people were split on whether wildlife officials did enough to begin with to warn campers of bear danger.
The grandfather of the boy killed says his family would never have camped in that same campsite if they would have known of the previous bear encounter.
Eldon Ives said, "Could this have been prevented? Yes, I think it could have.
"I think campers at the very least could have been told there was a bear attack, a tent was ripped into."
The two government agencies in charge of responding to the bear attack say they did everything they could to protect people.
John Logan, a ranger for the U.S. Forest Service, said, "If we start protecting the public from all the hazards that are out there, we'd just as well close the national forests and not allow the public any access to the national forests."
They say signs and fliers warning of bear dangers are posted in the area at all times. They didn't believe an additional verbal warning to campers was necessary.
×
Related links
Most recent Utah stories