This archived news story is available only for your personal, non-commercial use. Information in the story may be outdated or superseded by additional information. Reading or replaying the story in its archived form does not constitute a republication of the story.
SALT LAKE CITY -- Organizations across the state are making a big push to help others in the final week before Christmas. Some have just enough for those in need - others are falling short and asking for your help.
It's not every day you see men helping kids shop for new clothes. But Saturday, a group of guys made an exception.
That's because these Knights of Columbus want to make kids much warmer this winter.
---
What's so hard is, how do you tell a kid there is no Christmas?
–Daneen Adams
---
"Some of them are coming out in blankets," said Knights of Columbus state deputy Ray Lopez. "Some of them are coming out in just hoodies."
But when they left St. Vincent De Paul's, they walked out with a coat. A long line of people waited outside to get one of 200 coats. The Knights will give away another hundred Sunday in Wendover.
At the Columbus Center in South Salt Lake, 600 families got to pick through piles of clothing and toys to take home to put under the tree.
"Some of these kids, in fact, most of these families will not have Christmas unless we try to help them," said Dr. Cesar Diaz with Christmas Project.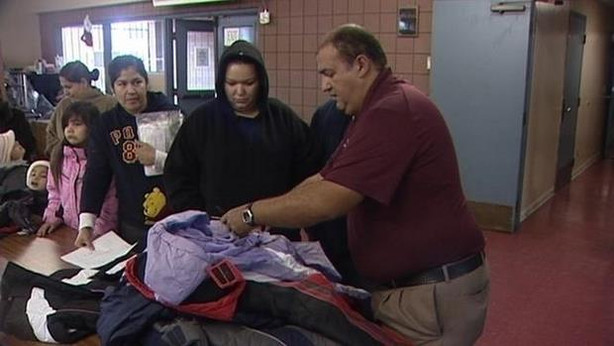 But to help others, these organizations need help from the public. In Davis County, help is slow coming in.
"This year it's getting a little scary for us," said Daneen Adams, director of development at the Family Connection Center.
Adams says the center generally gets plenty of donations to its "Sub for Santa" program. But this year, people just aren't giving.
"We have roughly 900 toys and we need over 3,000," said Adams.
With so little on its shelves, the center is worried it won't have enough come next week.
"What's so hard is, how do you tell a kid there is no Christmas?" Adams said.
The Family Connection Center will begin handing out presents Wednesday. Donations to the Sub for Santa Program can be dropped at the Davis County Food Bank at 875 E. Highway 193.
For more information on how you can help, [CLICK HERE].
E-mail: lprichard@ksl.com
×
Related Links