Estimated read time: 2-3 minutes
This archived news story is available only for your personal, non-commercial use. Information in the story may be outdated or superseded by additional information. Reading or replaying the story in its archived form does not constitute a republication of the story.
SALT LAKE CITY -- When someone else is having a hard time, it can be difficult to know exactly how to help. But this week's High 5 recipient has a solution -- just show up!
Cheryl Adamson's daughter Leslie nominated her for the honor.
"This woman goes all the time. She gives and gives and gives; never takes. So I thought I would nominate her and let her know how much we love her," Leslie said.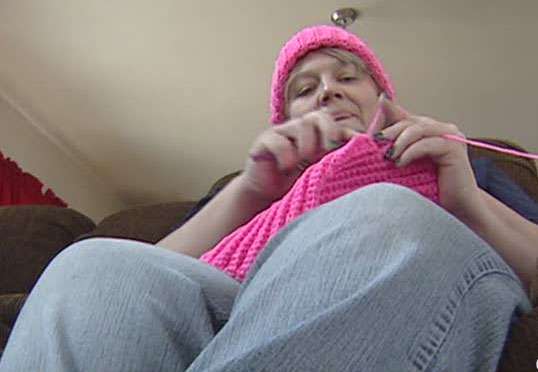 We don't know where to start when it comes to Cheryl's service. She goes. She gives. Her neighbors, like Melanie Thorpe, know that best. When Melanie was diagnosed with cancer Cheryl didn't stop to think, she just jumped to react.
"I've always been the type of person that if you have to be asked to do something, you're too late," Cheryl said. "I read on Facebook she had received news she had cancer and I thought she just needed a hug."
Melanie said, "She is always calling or sending a quick note or sending me a Dr. Pepper when I need a pick me up."
When Melanie felt the need to cover up her hair loss during treatment, Cheryl didn't want her to be alone. So, she crocheted dozens of bright pink hats that many women wear at church each Sunday.
"It's fantastic," Melanie said. "I know that everybody is supporting me and that Cheryl is there to kind of lead the charge."
They call it a colorful way to show they care.
"Sometimes if you just show up with a smile or a hug that says more than words can ever, ever say. It really can. It can do more healing and good than anything," Cheryl told us.
Cheryl crochets hats not just for Melanie, but all year long. She has completed about 70 so far this holiday season and plans to donate them to homeless veterans in the community.
As part of the High 5, Cheryl received a gift basket from our partners, Les Schwab. If you would like to nominate someone for a High 5, click here.
E-mail:bwalker@ksl.com
×
Most recent Utah stories