Estimated read time: 2-3 minutes
This archived news story is available only for your personal, non-commercial use. Information in the story may be outdated or superseded by additional information. Reading or replaying the story in its archived form does not constitute a republication of the story.
Richard Piatt ReportingHere's another reason seniors might want to find help when it comes to signing up for a new Medicare benefit: Identity theft. We've already told you that a lot of seniors are frustrated and confused about all the choices available with this new prescription drug benefit, but officials warn seniors not to let frustration lead to rash decisions.
A lot of seniors like puzzles. They've got plenty of them at the Liberty Senior Center in Salt Lake City. But for some, signing up for the new Medicare drug benefit is a puzzle that's a little scary.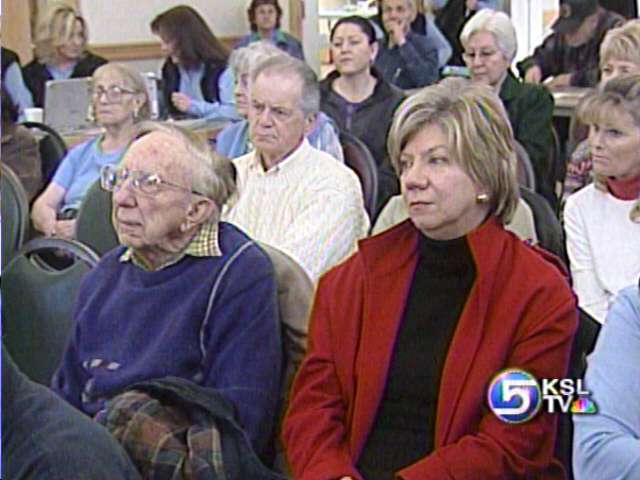 Joyce Luttrell is getting help figuring it all out.
Joyce Luttrell, Signing up for Medicare Benefit: "I'm afraid if I get into the wrong program it's really going to cost me. And I have seven or eight prescriptions that I get every month."
Senior citizens have until May 15th of next year to decide what prescription drug plan, if any, they want. The problem is, there are many choices--each with different cost benefits. These days many senior centers are sponsoring workshops like this one to help seniors figure it out.
Once you get going, signing up is pretty easy. But there are still a lot of seniors who aren't familiar with the internet yet. And that can leave them vulnerable to fraud. A few Senior citizens are reporting solicitors calling them, asking for personal information or to sell their help. Both are illegal.
Peter Hebertson, Salt Lake County Aging Services: "They shouldn't be responding to someone who is doing that kind of outbound calling, especially if they don't know who they are. They need to be assured who they're talking to."
That's one reason Kathy Cochran is here getting the personal help she needs. She hopes her friends don't become victims either.
Kathy Cochran, Signing Up for Medicare Benefit: "Hopefully not, if there's programs like this there will be very little advantage for someone to take advantage of someone like that, because they'll have information."
Remember, don't give personal information to anyone who calls YOU for it.
×
Related links
Most recent Utah stories