Estimated read time: 1-2 minutes
This archived news story is available only for your personal, non-commercial use. Information in the story may be outdated or superseded by additional information. Reading or replaying the story in its archived form does not constitute a republication of the story.
Ed Yeates reporting Yelling in someone's ear is annoying. But talking directly in your own ear - yourself - is a new way to enhance reading. It's turned reading into a whole new experience for students in Logan.
Every kid in this classroom is reading aloud at the same time, but you'd never know it! All the students at Woodruff Elementary are using what are called "whisper" phones.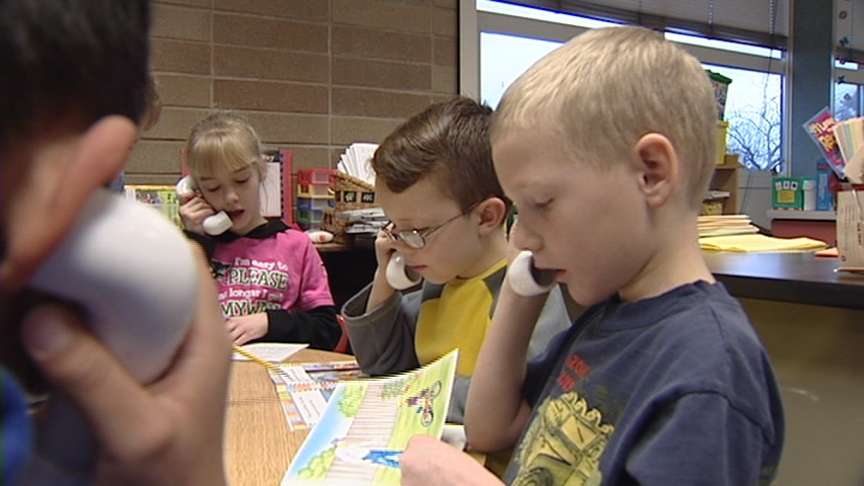 Verla Galloway/ Teacher, First Grade: "It allows the children to hear the sounds directly in their ear rather than hearing a mumble when all of the students are reading at once."
"It makes a hollow sound and they don't bother to open it."
Cutting down noise is not all the phones do. The mouth to ear device lets children like Venezia and Aldin hear exactly how they sound. Are they pronouncing words correctly? And what about feeling the word - its emotion?
Venezia Ramirez/ Fourth Grader: "It's just like ourselves. We can hear it very clearly."
Aldin Brown/ Fourth Grader: "You can hear yourself a lot better so you can catch yourself when you make a mistake. I think it's cool how it does that."
Galloway: "It makes reading more exciting because they can hear their expression when they're reading."
As Verla Galloway says, "Having a flow to what you read."
In case you think these whisper phones are sophisticated one-hundred-dollar-or-so devices, look again. They are just simple pvc pipe glued together.
When we arrived, students were talking softly. But the pipes amplify sound enough so you can lower your voice even more. We certainly don't have to whisper the price. The donated PVC phones costs the school nothing.
In case you're worried about germs, each student has his or her own phone. And, they're dishwater safe.
×
Most recent Utah stories