Estimated read time: 3-4 minutes
This archived news story is available only for your personal, non-commercial use. Information in the story may be outdated or superseded by additional information. Reading or replaying the story in its archived form does not constitute a republication of the story.
WASHINGTON D.C. -- Sen. Bob Bennett, R-Utah, delivered a farewell address Thursday to his fellow lawmakers on the Senate floor. After 18 years in office and a total of 48 years in D.C., Bennett said he isn't leaving politics, he just "changing venues."
Bennett recalled the time he spent as an intern in his teens and as a staffer for his father before he ever ran for election. He recounted the monumental events where he was in Washington, such as running to a ticker tape in the Senate offices to read updates on the shooting of then-President John F. Kennedy, and being present when Martin Luther King Jr. marched on Washington and delivered his "I Have a Dream" speech.
"This is an extraordinary place filled with extraordinary people," Bennett said. "I say farewell to it with kind of mixed feelings."
---
This is an extraordinary place filled with extraordinary people. I say farewell to it with kind of mixed feelings.
–Sen. Bob Bennett
---
In his more than 20-minute address, Bennett shared some of the lessons he learned from fellow lawmakers including fellow Sen. Orrin Hatch, R-Utah. He said he learned in his tenure that there is a significant difference between Republicans and Democrats, but both are necessary.
"They're both right -- that's the thing I have come to understand here," he said.
One party believes free markets will solve problems, and the other believes government will. Different circumstances necessitate different solutions, he said.
"Yes, we disagree. But if we can disagree in an effort to solve the problems to the country, and be willing to admit that sometimes the other side might be right, we will move forward," he said.
His father, Sen. Wallace Bennett, faced a tough re-election after voting for the Civil Rights Bill. Thursday, Robert Bennett likened it to consequences he himself faced for supporting TARP. The difference is, the younger Bennett didn't survive his challenge.
"My father never regretted the Civil Rights vote," he said. "I don't regret my TARP vote, because it's the right thing to do."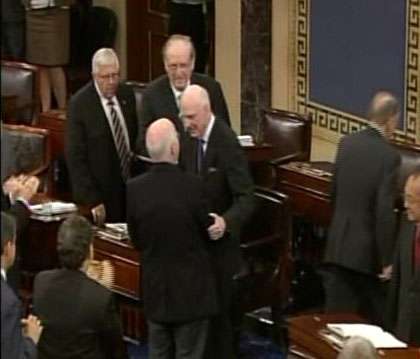 Bennett was ousted by his own party in Utah in the state convention in the anti-incumbent sentiment swept other long-time politicians out of office. Bennett came in third behind Sen.-elect Mike Lee and challenger Tim Bridgewater.
Contrary to media or Hollywood portrayals of lawmakers as crooked and unethical, Bennett said, the Senate of today is in far better shape than years past.
"The caricature that we get from the press ... is simply not true," he said. "We have a few clunkers, I will admit that, but overall the highest standard of ethics the American people could want."
While he will leave his Senate career at the end of the month, he has no plans of retiring from meaningful work and political discourse.
"I do not intend to leave the arena of public debate," he said.
And while his speech Thursday was a sort of goodbye to the role he loves, he plans on being vocal and proactive on the issues and bills that prevent themselves in coming weeks.
"I view the Senate not as the end of my career, but as a preparation and education for the next stage."
------
Story compiled with contributions from Molly Farmer and Richard Piatt.
×
Related stories
Most recent Utah stories