Estimated read time: 3-4 minutes
This archived news story is available only for your personal, non-commercial use. Information in the story may be outdated or superseded by additional information. Reading or replaying the story in its archived form does not constitute a republication of the story.
Keith McCord and Samantha Hayes Reporting A Salt Lake City woman has a message for all of us who talk on our cell phones while driving: Don't! And, she's made that message very clear with a billboard that's up near East High School.
It's a sad story. Linda Mulkey's daughter was killed in March when a driver ran a red light, allegedly while using his cell phone. So the message is plain and simple: "Hang Up... before you drive!"
Mulkey is on a crusade. It's time to send a message to everyone that talking on a cell phone while driving is dangerous and can be deadly. She says, "After Lauren's accident, I started noticing that it seemed like everyone I drove by was talking on their cell phone, and it really bothered me."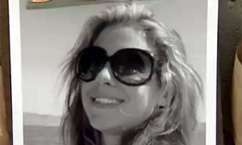 So, she came up with a billboard, there are two up in the city, with her daughter's picture and the message to stay off the phone while driving. "So I thought if we had Lauren's picture on a billboard maybe people would personalize it a little bit and stop and think, 'Well, this is a dangerous habit, and I shouldn't do it.'"
In March, 17-year-old Lauren Mulkey was driving an SUV when a man ran a red light at 2100 South and 1300 East and broadsided her vehicle; she died instantly. Police said the driver was using his cell phone.
Mulkey says it's time for that to stop, and she made numerous appearances on national TV today to make her point. "It's sort of become a mission. My beautiful daughter had to lose her life because of something so horrible, and if we can help any other family to not have to go through this awful thing, that would be very important."
Mulkey adds, "You know we warn our kids about a lot of dangers when they go out on the road and take the car. I never once though to say 'Lauren, there might be somebody talking on a cell phone that's going to run a red light and kill you.'"
Mulkey also wants laws passed making it illegal to drive while talking on a cell phone.
When the crash happened in March, police said the driver said he was looking for an address on his cell phone. The official police report, however, could not verify that. The driver is facing a third-degree felony charge because his blood tested positive for a controlled substance.
There is no doubt that Theodore Jorgensen was not paying attention when he broadsided Lauren Mulkey's car, killing her, in March. Why he was distracted is not as clear. It has been widely reported, based on early information at the scene, that Jorgensen was using his cell phone.
No one argues that distracted drivers on cell phones is an important issue, but the police report says it could not be verified that Jorgensen was using a cell phone.
Salt Lake Police Sergeant Rich Brede says, "In what I've reviewed up to this point, I have not seen text that indicates that. That doesn't mean it didn't happen.
"I don't want to speculate on the distraction," he continues, "but the formal charge does involve 'while under the influence of a controlled substance.'"
Charged with a third-degree felony, Jorgensen's court dates haven't been set; a conviction carries a 0-5-year jail term.
Police would not say specifically what substance was in his system. Linda Mulkey says she is just as adamant about impaired driving as distracted driving. She will be speaking with Mayor Rocky Anderson tomorrow morning about a new program to reduce cell phone use while driving.
Just yesterday, the district attorney's office filed charges against the 19-year-old driver, for "causing death through negligent driving while having a controlled substance in the body."
×
Related links
Most recent Utah stories