Estimated read time: 1-2 minutes
This archived news story is available only for your personal, non-commercial use. Information in the story may be outdated or superseded by additional information. Reading or replaying the story in its archived form does not constitute a republication of the story.
SALT LAKE CITY -- The number of young children who died in car crashes last year jumped dramatically, even as traffic fatalities among other age groups continue to drop.
Utah Crashes for ages 0-8
| Year | Number of deaths |
| --- | --- |
| 2004 | 6 deaths (3 no restraints, 1 seat belt, 2 CSS) |
| 2005 | 8 deaths (5 no restraints, 3 CSS) |
| 2006 | 5 deaths (1 no restraint, 1 seat belt, 3 CSS) |
| 2007 | 4 deaths (1 no restraint, 3 CSS) |
| 2008 | 3 deaths (2 no restraints, 1 CSS) |
| 2009 | 6 deaths (3 no restraints, 2 seat belt, 1 CSS) |
Primary Children's Medical Center
Getting kids loaded up in any safety seat can be a struggle. Figuring out how to install the seats and when to move kids into the next level of seat can be confusing, even to safety conscious moms.
---
For all ages, unrestrained crash occupants are 29 times more likely to die in a crash than restrained occupants. --Janet Brooks, Primary Children's Medical Center
---
"Even though I'm a mom of two children, I don't always remember everything I'm supposed to remember from my first child," said Shaundee Bull. "I'm always trying to ask an older sister or a neighbor who's done this before, 'Hey, what stage am I at?'"
The data points to a troubling trend among kids between 1 and 6 years of age. Traffic fatalities increased in 2009 by 18 percent, according to the National Highway Traffic Safety Association.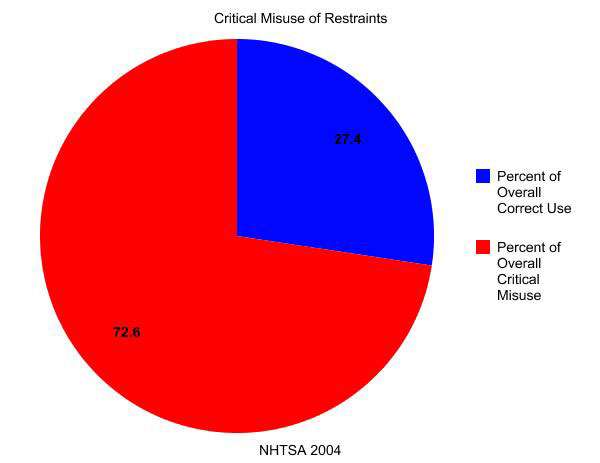 Safety advocates fear too many parents are moving kids to more convenient booster seats before they're ready
"I don't know of a parent out there who doesn't want to protect their child," said Janet Brooks with Primary Children's Medical Center. "So it means being vigilant, not just putting our kids in a car seat, but putting them in the correct car seat and putting them correctly in."
They estimate almost three of four car seats are installed incorrectly. So when will these kids be ready for a booster? When they're 40 pounds and mature enough to understand the importance of keeping the seat belt strap in place.
E-mail:Nadine Wimmer@ksl.com
×
Most recent Utah stories