Estimated read time: 2-3 minutes
This archived news story is available only for your personal, non-commercial use. Information in the story may be outdated or superseded by additional information. Reading or replaying the story in its archived form does not constitute a republication of the story.
SALT LAKE CITY -- Graduation of any kind marks an accomplishment and completion of something that took hard work. But for a defendant who graduates from drug court, it begins a new chapter of their life.
It's a day they've anticipated for years - graduation from a program that did more than give them an education. It gave them their lives back.
Judge Randall Skanchy said, "It's a battle, and it's an important battle to win. I know we're winning it not just for them but for their children, for their spouses, for their mothers and fathers." Russ Hales was addicted to heroin. Thanks to drug court, now he is clean and moving on with his life.
"Recovery isn't something you can be forced into," he said. "You have to truly want it for yourself, something it took me a long time to realize."
Another graduate, Jennifer Richens, said, "I feel like I'm a better person today because of the things I've been through. I'm a lot stronger for sure."
She overcame her addiction to prescription pain killers.
"It's made me realize that I'm OK and I'm worth it," she said.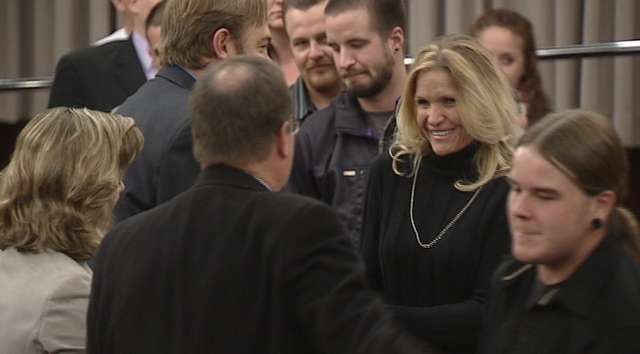 The judge said, "At some point, really, it changes from us forcing them to want to do this to them embracing it and doing it."
From the moment they are admitted into drug court, the judge and staff makes it clear that it's no walk in the park. The defendants undergo random drug testing, submit to home searches, agree to follow all of the judge's orders, and attend counseling sessions.
If they put in the work, the program will work for them.
"These people want to be like we want them to be," Judge Skanchy said. "They want to be successful contributors to society with people who love them and are proud of them. We get the opportunity to help them be that."
Graduation is the day when everyone's hard work pays off. After the defendants speak, their families get a chance to express gratitude.
Russ's mother said, "Our prayers are answered through this program." And his sister said, "I love you Russell, and I'm proud of you today."
#tease
It's a battle the defendants, their families and the drug court staff fought and won together, because this always is about more than enforcing the law. It's about changing lives.
In her graduation speech, Jennifer said, "Your honorable Judge Skanchy, you have helped me to find the confidence in myself and the voice to remind myself that I deserve to be happy."
She continued, "There is more to us than our mistakes that we have made. Thank you."
The graduation rate for drug court is 75 percent. Once participants graduate, their charge is reduced from a felony to a misdemeanor.
Friday on KSL 5 News at 6:30 we'll take a look at family drug court.
E-mail: jstagg @ksl.com
×
Related links
Most recent Utah stories