Estimated read time: 2-3 minutes
This archived news story is available only for your personal, non-commercial use. Information in the story may be outdated or superseded by additional information. Reading or replaying the story in its archived form does not constitute a republication of the story.
(NBC News) -- If your car was in a roll over accident, would the roof above your head offer enough protection?
At the heart of this story is an issue called "roof crush," the term used to describe how a car's roof handles a nasty kind of accident, a rollover crash.
Violent from any viewpoint, outside a crash test or inside the cab. Though rollovers account for only three percent of all crashes, they are responsible for a third of all crash deaths, about ten thousand each year.
Critics have long pointed to a government safety standard on roof strengths as part of the problem.
Joan Claybrook / Public Citizen: "The National Highway Traffic Administration in August announced a proposal to strengthen the standard. Yet what it released is grossly inadequate and amounts to a junk science rule."
This is what a rollover can look like in the real world.
This is what a rollover looks like in the world of government testing, a aafety standard called the 216 test. So slow, it is virtually undetectable to the human eye.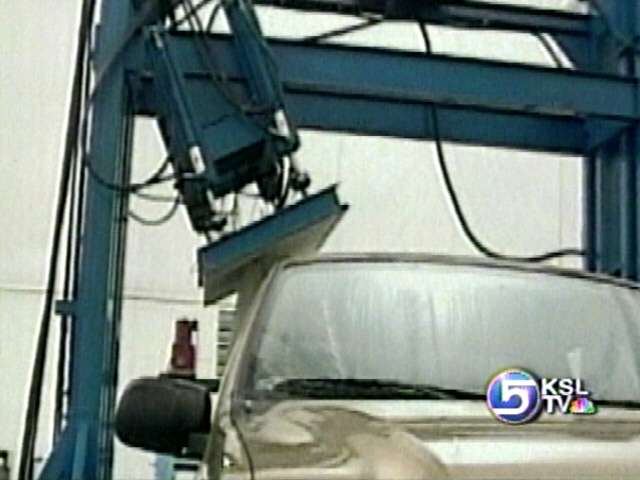 The test, first required in 1973, and one that has not changed since, even though cars have. Most notably, the popular SUV's and light trucks most prone to rollovers.
Now government agency, NHTSA, the National Highway Traffic Safety Administration, is considering a change, but only by adding more pressure to the current test.
Joan Claybrook / Public Citizen: "Instead, the NHTSA should require a dynamic dolly rollover test in which vehicles are rolled off a fast moving dolly to simulate the injuries that would occur in a real world crash."
NHTSA says it is not adding any such dynamic standard, because there is no known test that is repeatable.
At the conference, a rollover survivor left quadriplegic, Lawrence Harris says the proposed change is not enough. The vehicle he crashed 8 years ago would have passed it.
Lawrence Harris / Accident Victim: "It's time for citizens like us to be heard and for the government to enact a law that forces auto manufacturers to build vehicles that are safer, stronger, and will increase the chances of people walking away from accidents."
By the government's own estimate, the proposed roof crush standard would save from 11 to 44 lives a year.
Critics say that shows how weak it is, but the N-H-T-SA sees it differently. The agency says a much bigger part of this problem is the fact that people who die in rollover crashes are often not wearing safety belts. A new test won't change that. They say buckling up, will.
×
Most recent News stories