Estimated read time: 2-3 minutes
This archived news story is available only for your personal, non-commercial use. Information in the story may be outdated or superseded by additional information. Reading or replaying the story in its archived form does not constitute a republication of the story.
PARK CITY -- Poisonous metals are being found in the drinking water of some Park City neighborhoods.
A water quality advisory has been in effect for those neighborhoods since Nov. 8 affecting about 350 connections.
The city is asking residents not to drink or cook with the water and to limit their shower times.
Water crews have been flushing out the water supply since residents noticed the problem a week ago Sunday.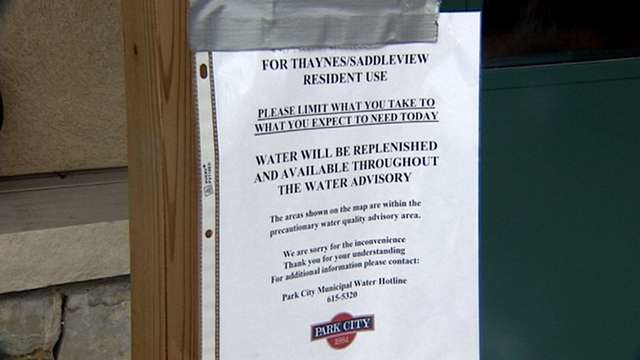 "Originally, it was dirty." said Park City resident Craig Matthew. "It was kind of a yellowish, not clear anyway, yellowish water."
"We really didn't know what it was," said Park City's water manager, Kathy Lundborg. "So we just didn't want people to drink it period or use it for cooking."
Lundborg had the water tested right away after residents started calling. The first tests came back showing there were metals like thallium and arsenic in the water. Then another test Monday showed mercury was in the water.
"That's not something we see in our drinking water. That was a whole new red flag," Lundborg said.
The city thinks the problem might have something to do with changing their water supply, because the one they normally use goes to Park City Mountain Resort to make snow this time of year.
The water now being used has a lower pH level, which could break down some of those metals and put them into the water supply.
"We're testing the water," Lundborg said. "We'll continue to watch this and then we can actually make some changes at our water treatment plant to adjust the pH and control this in the future."
Park City's water department says they honestly don't know how much longer this advisory will be in place. There is a delay in getting test results, but they hope to have better answers by the end of the week.
Story compiled with contributions from Alex Cabrero and Paul Nelson.
×
Related links
Related stories
Most recent Utah stories