Estimated read time: 4-5 minutes
This archived news story is available only for your personal, non-commercial use. Information in the story may be outdated or superseded by additional information. Reading or replaying the story in its archived form does not constitute a republication of the story.
SALT LAKE CITY -- At least one key GOP lawmaker is already looking to prevent Utah's transportation agency from secretly cutting any more huge settlement deals like the $13 million paid to a losing bidder of the massive I-15 CORE road contract.
The aim is to make sure top state officials sign off on future large settlements. Sen. John Valentine, R-Orem, says he's still working out the specifics of the bill.
Meantime, KSL checked with dozens of state highway departments around the country and could identify no other settlements of this magnitude over bidding disputes in the last five years.
Legislation proposed
A multi-million dollar settlement quietly paid to a losing road bidder without prior approval from the highest levels of state government. Valentine says that shouldn't happen again.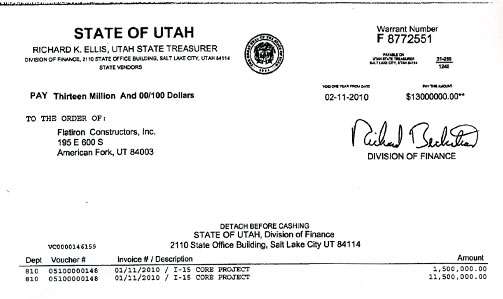 "I think it's a matter of trust in our government, that we want to make certain that our government is doing things openly, transparently," he says.
He plans to bring legislation next session that would set a dollar threshold for UDOT to notify the governor and Legislature of any settlement.
"My investigation has convinced me that nothing was done wrong in this case, but it just has the appearance of something wrong," Valentine says.
But UDOT's chief John Njord insists the settlement was the best deal for taxpayers. The I-15 CORE project is "fixed price:" bidders told UDOT what they'd do for $1.7 billion, rather than the traditional low-bidder contracting method, which he says is ultimately more expensive.
"We were trying to accomplish, in an innovative fashion, the best value for the citizens of our state," Njord says. "It's not surprising to me that you've gone around the country and not found anything like this because frankly there is nothing like this. This is a very unique project."
Payouts in other states
But we found a project just like the I-15 CORE -- Colorado's T-REX also cost $1.7 billion and also was a design-build project. But there was no bid protest, and no $13-million settlement to a dissatisfied bidder.
"We had our share of protests on bids, but I'm not aware of any situation or any case where we've actually settled with a contractor in this instance," says Stacey Stegman, director of public information for the Colorado Department of Transportation.
In fact, KSL contacted highway departments in every state and heard back from more than 30 of them, including most in the west. We could find only a few that paid out large settlements involving disputes over road bids.
Top 5 Settlements Reported:
California: $100,000
Delaware: $375,000
Kansas: $2.6 million
Mississippi: $1 million
North Carolina: $1.25 million
Pennsylvania: $4.7 million
Half of the states report no recent settlements where the state paid out money. Of those reporting payouts, just four top $1 million. None exceed $5 million.
The highest we could find was Pennsylvania with $4.7 million. The agency paid both losing bidders $1.5 million as compensation for preparing a bid and got to keep and use their designs.
It paid an additional $11.5 million -- $13 million total -- to losing contractor Flatiron to resolve a potentially lengthy court fight.
"It was a business decision to clear the air and enable us to move forward," says Njord.
But longtime construction lawyer Joseph Rust believes the payout was made for fear of losing in court.
"The fact that they settled it quickly, they settled it for a large amount suggests that there are some issues there that were pretty significant," he says.
Many states require unhappy bidders pursue a clear-cut process, or even file a lawsuit, before a settlement is awarded. UDOT has no such requirement.
Unlike Utah, Colorado requires unresolved claims to go to mediation or arbitration. Any legal settlement must be voted on in public by its transportation commission. Like in many states, Colorado's transportation agency is not required to inform the Legislature, attorney general, or governor.
However, Stegman says, "We try to be very, very open with the governor's office on everything and especially if something gets to a large financial settlement or something that's out of the norm from our way of normally doing business."
Gov. Herbert has already issued an executive order requiring UDOT to notify state leaders of any settlement over $100,000. Meantime, the state auditor, who is conducting an audit of UDOT, says he expects it to be done by the end of the month.
E-mail: jdaley@ksl.com
×
Related stories
Most recent Utah stories