Estimated read time: 2-3 minutes
This archived news story is available only for your personal, non-commercial use. Information in the story may be outdated or superseded by additional information. Reading or replaying the story in its archived form does not constitute a republication of the story.
Tonya Papanikolas ReportingFriends and family of the young girl killed in the Trolley Square shooting gathered tonight to celebrate her birthday.
Kirsten Hinckley would have turned 16 years old today.
Her mom told us she didn't even think twice. This was Kirsten's birthday, so she had to give her a party. And it certainly was the kind of celebration fitting for a funny, spontaneous girl who loved to laugh.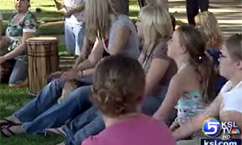 It was a birthday celebration filled with music, laughter and fun.
"I was trying to celebrate for her what she would want us to do. All year she talked about her sixteenth birthday," Tuft said.
Kirsten's friend Emily Spuhler said, "It was something she was really looking forward to. So I think it was something that needed to be done."
Honoring Kirsten came in many forms, even using hula-hoops.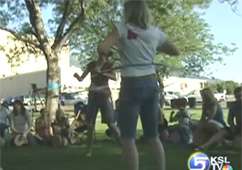 Another friend, Elisha Hein, said, "Like if we were bored she'd go, 'OK, let's go hula-hoop,' like the most random thing ever. But it just made her so much more fun."
The fun turned serious as friends made wishes for Kirsten, blowing out her birthday candles for her.
"We miss her a lot," said Jillian Horton. "We wish she was here."
Elisha added, "It's hard because we know that she's supposed to be here. It's her sixteenth birthday, she's supposed to be here with us. But at the same time, we know that she is here with us, even if we can't see her."
For Kirsten's mother, "To be here with her friends and family, it helps. It helps pad the sadness that she's not here."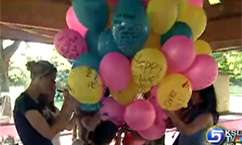 Friends and family wrote messages of love to Kirsten on bunches of balloons. Later, those balloons were passed out to sing Happy Birthday with a little helium.
"If she was here," Elisha said, "she'd be peeing her pants with us singing Happy Birthday with the helium."
"We're hoping she's here," Carolyn Tuft said. "We're hoping that she laughed with the balloons."
As the balloons were released into the air, it was almost like Kirsten was receiving a present.
"We couldn't give her birthday gifts and cards, so that was the closest way of giving, sending them to her, to heaven," Carolyn explained.
The group also had an ice-cream-eating contest, since Kirsten loved ice cream and would eat it with her friends when they were feeling down. The team that won was led by Kirsten's older brother, Scott. He says he did it for Kirsten.
×
Related links
Most recent Utah stories