Estimated read time: 4-5 minutes
This archived news story is available only for your personal, non-commercial use. Information in the story may be outdated or superseded by additional information. Reading or replaying the story in its archived form does not constitute a republication of the story.
John Daley and Brooke Walker reportingHoliday lights are up and shining brightly in downtown Salt Lake City tonight. Around dusk, teams hit what must have been some powerful switches.
Not only are the lights bright and festive, they're also a great draw for shoppers. With "Lights On," downtown was simply packed this afternoon. That's welcome news for downtown retailers. The malls on Main Street-- Crossroads and ZCMI-- are set to be demolished and rebuilt, and many stores have relocated or closed.
Because of that, you'd think shoppers might stay away. But downtown has a secret weapon, a spectacular holiday scene at Temple Square, which is unmatched elsewhere in Utah or likely anywhere else in the county.
We had no trouble finding folks, like sisters who came to see the lights, and stayed to shop.
"We're going to come downtown because it's the first day. Then we just thought we'd go shopping because of Christmas and everything. We're like, 'Yeah!'"
"Oh yeah. Because we come down here and we find some cute stuff. It's mostly for the lights. We buy stuff, too, for Christmas."
Around 5:30, Temple Square crews flipped the switch. More that 300-thousand lights illuminated the night, and a huge crowd gathered for the big glow. Temple Square lights will remain on through the New Year.
The Church of Jesus Christ of Latter-day Saints, which owns Crossroads and ZCMI, has not yet announced its specific plans for the big new construction project at the downtown malls. We are expected to know more in the coming weeks and months.
The famous candy windows in front of Meier and Frank department store are back for the first time in five years. So, too, is one Utah County family, which chose to stay in a downtown hotel for this holiday weekend.
Melissa Pennock, Lindon Resident: "Just to get in on all the fun. It's just a lot of fun to be here. It's great."
For weeks, Meier and Franks' window display has been kept under wraps.
Reporter: "What do you think is behind the window?"
"The North Pole."
"Something like Christmas."
Actually, behind those secret panes we found -- Trees for the elegant. Trees for the fun at heart, and trees that just said Christmas.
Nate Stansfield, Marketing Director: "I think it really took people back to thinking about Christmas."
Nate Stansfield has been the marketing director for the past few years, but after only days on the job, questions came.
Nate Stansfield: "One of the first calls I got-- 'Where are the candy windows?' After hearing so much, I dug up some photos. I thought, wow, this is something spectacular we need to bring back for downtown."
And bring back they did, teaming up with the Festival of Trees to not only restore a fun Christmas tradition, but this year to help Primary Children's Hospital. And Primary Children's helped out in its own way. Young patients became speical guest artists, designing and creating yellow candy stars.
"They had a blast with it, taking the candy and putting the stars together."
But it's more than just candy. Each star represents a Christmas wish.
"One says 'I want world peas.' You know, p-e-a-s. Other ones are more, no cancer. 'I would like to go home for Christmas.'"
All hopes that make this display more than what meets the eye. Those window displays are now up for view throughout December.
Meantime, there was also holiday fun at the Gallivan Center downtown today. Lights went on there around 5 pm. At the Gateway, a concert featured Kurt Bestor prior to lights on at 7 pm.
By the way, not all the holiday hoopla took place downtown on Friday. Jordan Commons kicked off the season by lighting a Christmas tree. More than 10-thousand lights triggered excited reactions from the crowd. Christmas fans both young and old came out to sneak a peak.
The East Hollywood High School Choir set the mood, singing classic Christmas tunes. And all the way from the North Pole, a special visitor passed out--what else--candy canes.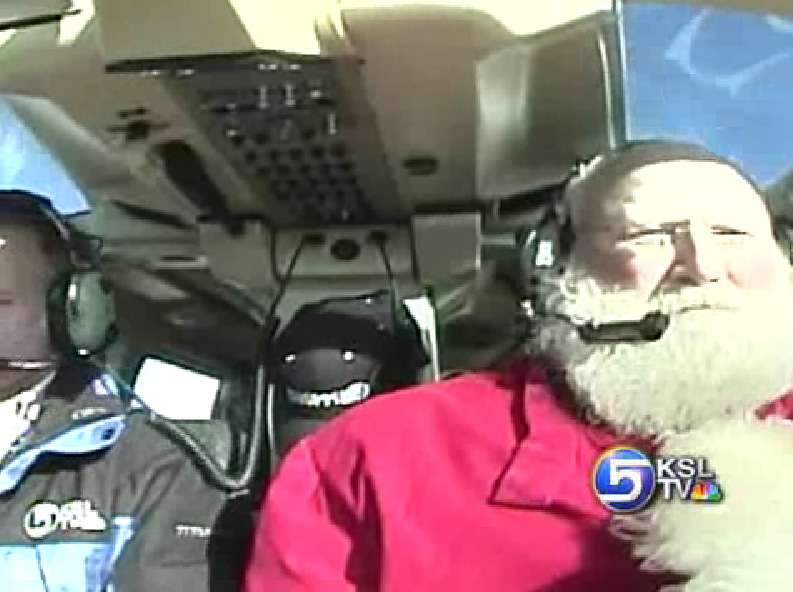 Earlier this morning, Santa began making some preliminary rounds. But he gave his reindeer a rest and hopped aboard KSL's Chopper Five.
The helicopter touched down at the University Mall in Orem, where hundreds of anxious children strained to catch a glimpse of the man in red.
×
Related links
Most recent Utah stories