Estimated read time: 1-2 minutes
This archived news story is available only for your personal, non-commercial use. Information in the story may be outdated or superseded by additional information. Reading or replaying the story in its archived form does not constitute a republication of the story.
Sandra Yi ReportingTrooper Jeff Nigbur, Utah Highway Patrol: "He found 360 pounds of marijuana in that U-HAUL."
That delivery was headed for another state, but troopers put a stop to it here in Utah.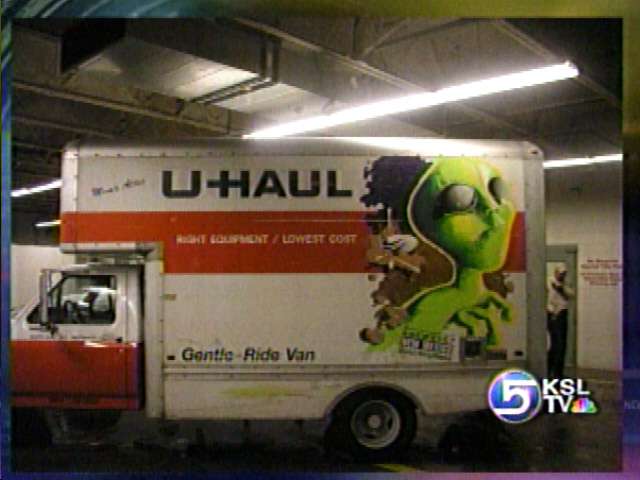 The bust led to another, much larger, drug bust in Indiana. In the end authorities seized millions of dollars worth of marijuana.
The U-HAUL driver never meant to make a stop here in Utah. That person was making an illegal delivery from San Diego, California to Indianapolis, Indiana. It was on I-70 at mile marker 35, near Richfield, where a Utah Highway Patrol trooper pulled the U-HAUL over for a commercial vehicle check.
The trooper became suspicious because the driver was hauling only about 200 dollars worth of furniture, and renting the U-HAUL, cross country, cost nearly 3-thousand dollars. The driver allowed the trooper to search the vehicle, that's when the trooper found a fake compartment. Inside was 360 pounds of marijuana wrapped in cellophane.
That bust happened last week. With the driver's cooperation, drug agents did a control drug buy in Indiana. That led to an even bigger discovery. Authorities found 2-thousand pounds of marijuana inside, what's called a stash house.
Trooper Jeff Nigbur: "It's basically where they keep their different loads of drugs, and they also distribute out of those particular houses where it goes out to the whole city, or other things like that."
Authorities say the wholesale value for marijuana is about a thousand dollars a pound, so millions of dollars worth of drugs were recovered in both busts.
The UHP is not releasing the identity of the U-HAUL driver, but says the driver was only hired to make the delivery. A UHP Sergeant says two kids under the age of 10 were also in the vehicle and they were taken into state custody.
×
Most recent Utah stories