Estimated read time: 2-3 minutes
This archived news story is available only for your personal, non-commercial use. Information in the story may be outdated or superseded by additional information. Reading or replaying the story in its archived form does not constitute a republication of the story.
Amanda Butterfield Reporting A 4-year-old boy made a phone call this morning that saved his mom's life.
Andrew Hayes of Bountiful loves calling his grandparents and friends. This morning he called his dad, after seeing his mom needed help fast. Andrew just learned how to use the phone a few weeks ago. Monday he made a call when his mom went into a diabetic seizure.
It's been a busy day for Andrew, playing on the jungle gym, climbing trees, and saving his mom's life.
His father, Joe Hayes, says, "It was really a miracle."
Andrew was home with his mom, Mary, and went to wake her.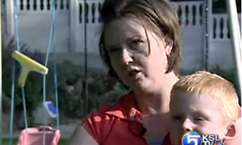 "She was sleeping," Andrew says, "and I went to her because I bumped my head. Then she started shaking."
Mary explains, "You shake so severely, your body goes into a seizure."
Mary's blood sugar had dropped dangerously low. Usually she can feel it coming on. But, she says, "If I'm sleeping, I have something called glucose unawareness, so I don't feel low blood sugar."
Andrew has seen this happen before, but his Dad always takes care of it. This time, he took care of it.
"I called Daddy," Andrew told KSL. "He was part of saving Mommy's life, too, 'cause he called 911."
According to Joe, "If he wouldn't have known to call me, call Daddy, I don't know if she would be here."
Joe beat the paramedics to the house, and gave Mary a shot to raise her blood sugar. Mary remembers none of it.
"I remember looking up, seeing my husband and thinking why is he here from work?" she says.
But she knows if her son hadn't made that call, she would be in bad shape.
"On the lucky side," Mary says, "I would be in the hospital. But likely I would be dead."
The paramedics arrived, checked her out, and told her she would be OK, thanks to Andrew.
And even though he's only 4 years old, he knows what he did and that his family is proud.
Mary is hoping to get a sensor that she wears along with her diabetic pump that will sound an alarm if her blood sugar gets too low. However, her insurance doesn't cover the sensor, that's why she doesn't already have one.
×
Most recent Utah stories