Estimated read time: 2-3 minutes
This archived news story is available only for your personal, non-commercial use. Information in the story may be outdated or superseded by additional information. Reading or replaying the story in its archived form does not constitute a republication of the story.
Deanie Wimmer Reporting A household product many parents use to keep their kids healthy could actually make them sick. In fact, Poison Control gets calls on a regular basis about hand sanitizer.
We've heard the message: wash your hands often. So we keep it around the house. The problem -- especially with the new sweet-smelling sanitizers -- is that kids lick their hands. And that small amount is sometimes all it takes.
Mandy Morgan is the mother of 2-year-old Spencer. She said, "Before he even got into the room, I could smell the smell of rubbing alcohol."
After one taste test, Spencer no longer helps himself to the hand sanitizer.
"He was spitting it out and it didn't look like a lot, so I wasn't too concerned" Mandy said. "But it says to call poison control."
Barbara Crouch of Utah Poison Control said, "Just one teaspoon, which is about a mouthful in a child, could get them a relatively significant blood alcohol concentration."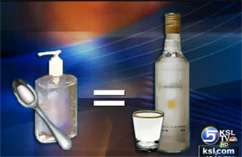 Most sanitizers are about 60 percent alcohol. So for a toddler, a teaspoon of hand sanitizer is about equal to a shot of whiskey or vodka. And the signs they've ingested too much can be hard to recognize. What toddler doesn't walk like he's tipsy or act sedated and glassy-eyed when it's close to nap time?
"We see a lot of exposures to hand sanitizers," Crouch said, "and a couple of kids who have ended up with blood alcohol concentrations greater than the driving limit."
In those cases, parents recognized it early and closely monitored their children.
"But if this were to happen in the evening and a child go to sleep rather than get evaluated in an emergency room, this could be a different story," Crouch warns.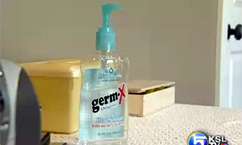 Spencer's mom keeps household cleaners out of reach. She's considering doing the same with hand sanitizer.
To Stay Safe, the best strategy is to keep hand sanitizer out of reach. If you suspect your child has ingested some, call poison control, and don't put him or her to bed.
×
Most recent Utah stories