Estimated read time: 3-4 minutes
This archived news story is available only for your personal, non-commercial use. Information in the story may be outdated or superseded by additional information. Reading or replaying the story in its archived form does not constitute a republication of the story.
PROVO, Utah (AP) -- Brett Ratliff threw for four touchdowns in his first start, including a 25-yard pass to Travis LaTendresse in overtime and Utah kept Brigham Young from scoring on the final possession to win 41-34 Saturday.
The game ended when John Beck's pass in the end zone was just out of reach for a diving Michael Reed on fourth-and-6, giving the Utes their fourth straight victory in the state rivalry and making Utah (6-5, 4-4 Mountain West) eligible for a bowl.
#1
BYU (6-5, 5-3) had rallied from a 10-point deficit to force overtime, but failed to score after winning the coin toss and electing to let Utah go first on offense.
The Utes charged onto the field after the final incompletion and a few stuck around to douse Utah's Kyle Whittingham with a jug of water to celebrate the first-year coach's victory over his alma mater, which offered Whittingham its coaching job last year.
Ratliff, starting for Brian Johnson (knee), threw the ball erratically, but caught the Cougars off guard with his running ability and had 19 carries for 112 yards and a touchdown.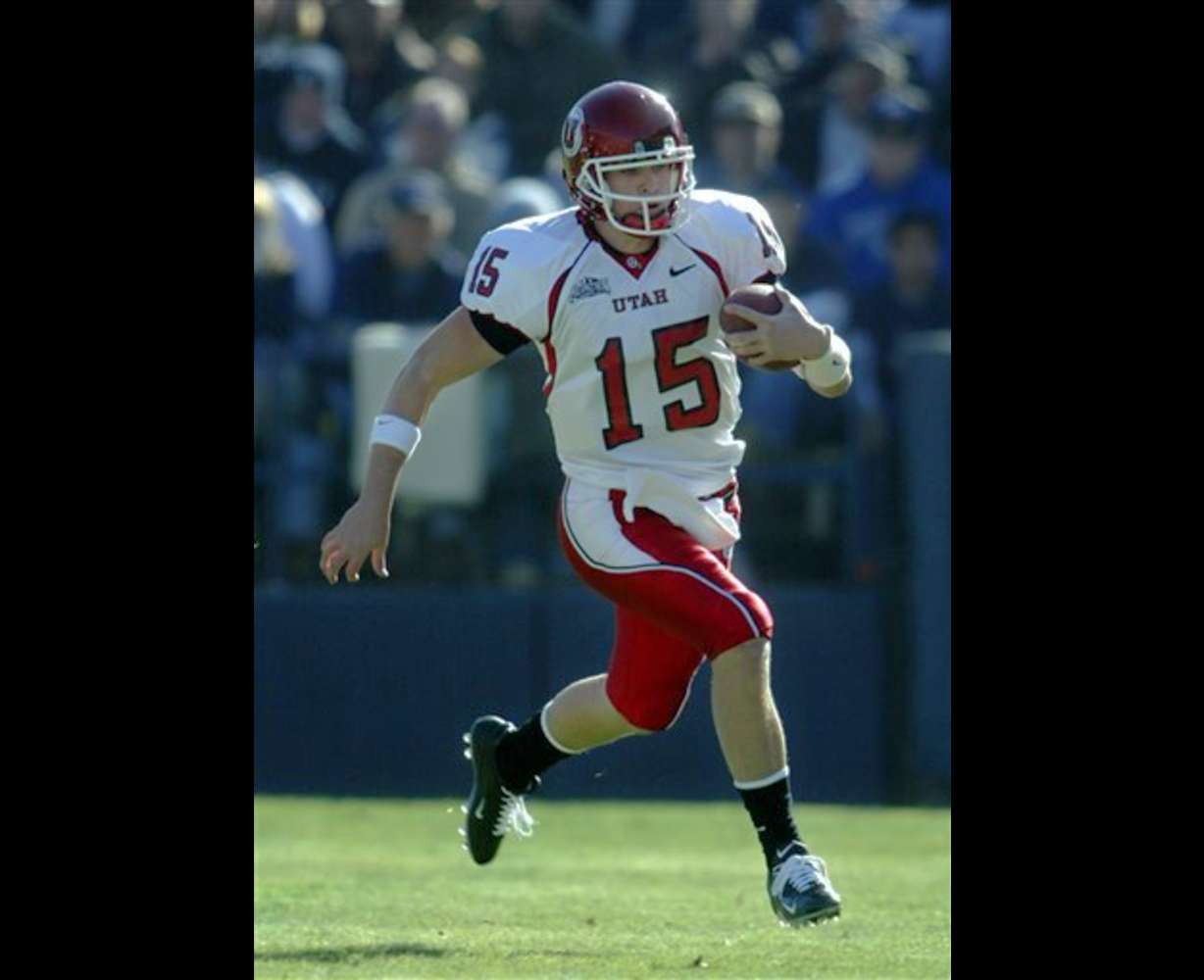 Although many of his passes were way off, he completed 17 of 32 and was on target for all four of his touchdown throws.
On second-and-10 from the 25 in overtime, Ratliff hit LaTendresse on a slant pattern at the 1-yard line and LaTendresse tumbled in for the score.
Utah's defense stopped Beck for 1 yard on a keeper, forced an incompletion and Soli Lefiti knocked down a pass on third down to set up the final play. On fourth down, Beck rolled to his left and threw a high pass that just missed Reed's diving attempt at the back of the end zone.
Beck was 27-for-47 for 309 yards and two touchdowns for the Cougars, who still finished the regular season with a winning record for the first time since 2001.
Quinton Ganther had 21 carries for 131 yards for Utah, although the Cougars held him to just 15 in the second half.
Utah hadn't won four straight over BYU since a run from 1968-1971.
Curtis Brown ran for 153 yards and two touchdowns for BYU, which trailed 24-3 at halftime after a quick start by Utah. The Cougars limited the Utes to 225 yards of offense in the second half and Beck led the rally with touchdown passes to Todd Watkins and Matt Allen.
But Utah wasn't completely shut down. Ratliff hit Brian Hernandez for a 45-yard touchdown pass with 5:47 left in the third and Dan Beardall added a 44-yard field goal to pad Utah's margin just enough.
The Utes also kept the Cougars from driving within scoring range after punting to the BYU 38 with 2:11 remaining.
Copyright 2005 by The Associated Press. All Rights Reserved.)
First Quarter
   Utah--Hernandez 3 pass from Ratliff (Da.Beardall kick), 11:51.
   Utah--Jacobsen 15 pass from Ratliff (Da.Beardall kick), 5:25.
   BYU--FG J.McLaughlin 31, :19.
Second Quarter
   Utah--FG Da.Beardall 35, 8:05.
   Utah--Ratliff 4 run (Da.Beardall kick), 4:37.
Third Quarter
   BYU--C.Brown 5 run (J.McLaughlin kick), 11:37.
   BYU--C.Brown 64 run (J.McLaughlin kick), 10:04.
   Utah--Hernandez 48 pass from Ratliff (Da.Beardall kick), 5:47.
   BYU--Watkins 13 pass from John Beck (J.McLaughlin kick), 1:32.
Fourth Quarter
   Utah--FG Da.Beardall 44, 10:35.
   BYU--Allen 28 pass from John Beck (J.McLaughlin kick), 8:31.
   BYU--FG J.McLaughlin 37, 4:50.
Overtime
   Utah--LaTendresse 25 pass from Ratliff (Da.Beardall kick).
   A--64,312.
   ------
                           Utah    BYU
First downs                     24            20
Rushes-yards            44-251    31-176
Passing                       240          309
Comp-Att-Int          17-35-0  27-48-0
Return Yards                    14            21
Punts-Avg.              6-31.7    5-39.8
Fumbles-Lost                  0-0          1-1
Penalties-Yards           12-86        9-74
Time of Possession        31:55      28:05
   ------
INDIVIDUAL STATISTICS
   RUSHING--Utah, Ganther 21-131, Ratliff 19-112, Weddle 3-10, Team
1-(minus 2). BYU, C.Brown 20-153, Tahi 5-15, John Beck 5-10, Meikle
1-(minus 2).
   PASSING--Utah, Ratliff 17-32-0-240, Team 0-2-0-0, Weddle 0-1-0-0.
BYU, John Beck 27-47-0-309, Team 0-1-0-0.
   RECEIVING--Utah, LaTendresse 6-88, Hernandez 4-81, Ganther 3-16,
Richards 2-37, Jacobsen 1-15, Tagovailoa 1-3. BYU, C.Brown 7-84,
Harline 4-46, Tahi 4-29, Reed 3-42, Allen 3-39, Meikle 2-25,
Watkins 2-22, Ashworth 1-19, John Beck 1-3.
<p>
   (Copyright 2005 by The Associated Press.  All Rights Reserved.)</p>
×
Related links
Most recent Utah stories