Estimated read time: 2-3 minutes
This archived news story is available only for your personal, non-commercial use. Information in the story may be outdated or superseded by additional information. Reading or replaying the story in its archived form does not constitute a republication of the story.
Gene Kennedy ReportingSome children are trying to forget what they saw in Draper Saturday night. A skateboarder who went into the street got hit by two cars and died.
"There were at least 30 kids who ran up here and just saw him in the road, people who were crying and traumatized," witness Brandon Conti told KSL. "It was horrible to see."
It happened just before 11:00 Saturday night. Witnesses and police say 1300 East was not well lit. A 20-year-old skater, Benjamin Delgado, came down a hill and around a blind curve. He went into the street, and two cars hit him.
"All day at work I've been thinking about it," Conti said. "I couldn't even sleep at night when I got home."
It's not just the traumatic accident that's replayed in Brandon Conti's mind. It's the seconds leading up to it.
"The guy in the white Corvette said he ran over the skateboard and the breaking of the board made a real loud noise. Or it could have been the kid getting hit. But it sounded like a gun going off," Conti said.
Witnesses told police Delgado was skating on the sidewalk but wiped out. The board went into the street, he went after it, and seconds later two cars ran him over.
"He wasn't breathing," according to Conti. "He was bleeding out of his ears and mouth."
The 20-year-old lost his life trying to save his skateboard.
More and more skateboarders are competing with traffic during these hot days. Duke Raour has had some close calls.
"For sure, you just always have to look over your shoulder," he said.
Raour also knows helmets can protect against severe injury, but he doesn't wear one, even when he's on his way to Fairmount Skate Park in Sugarhouse.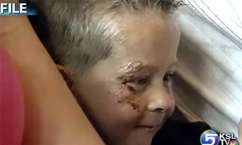 Helmets can save lives. Five-year-old Jace Muir from South Jordan is walking proof. He got on his belly and rode his skateboard into a neighborhood street. A car ran over his head and he survived because he was wearing a helmet.
The victim in the Draper accident was not wearing a helmet. They're not required by law, but police strongly recommend them.
Officers also remind skaters they must yield to traffic and they should never be in the street, only on the sidewalk.
×
Most recent Utah stories