Estimated read time: 2-3 minutes
This archived news story is available only for your personal, non-commercial use. Information in the story may be outdated or superseded by additional information. Reading or replaying the story in its archived form does not constitute a republication of the story.
John Hollenhorst ReportingToday is moving day at Kennecott's Bingham Canyon Mine. They're relocating the Visitor Center to make way for a massive expansion plan that will make the biggest excavation in world history, even bigger.
Not long ago the huge open-pit mine was scheduled to shut down in the year 2012. Instead, they've launched a major new expansion. In the last few months they've moved enough dirt to fill the Delta Center ten times. And they're just barely getting started.
A shovel-rig the size of a small office building grabs 80 tons with every bite. And these are just the preliminaries. Trucks are hauling away worthless dirt and rock that miners dumped here decades ago.
Dean Gehring, Kennecott Manager of Resource Development: "It was placed at a time when people thought there's no way the pit could get this big."
They're taking another giant slice out of a huge apple, expanding the open-pit six hundred feet to the East. Astonishingly, they'll spend several years and hundreds of millions of dollars, cutting down through 1700 vertical feet of worthless rock and dirt.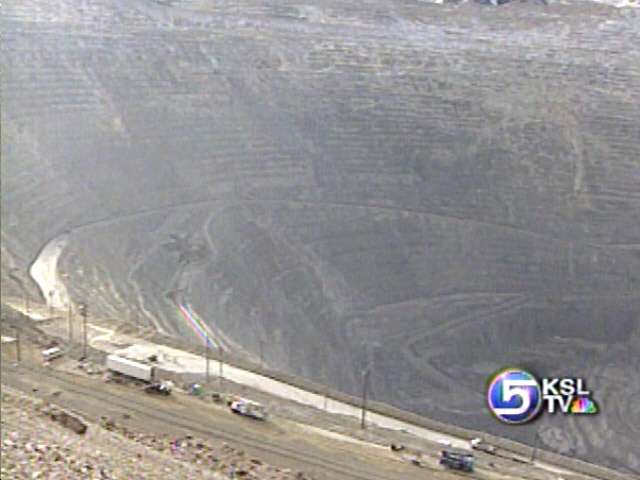 Bill Champion, Pres & CEO, Kennecott Utah Copper: "We have about five years worth of mining that has to occur to remove that overburden before we would actually get to the rich zone, the ore-rich zone."
For years this area was considered too expensive to mine. The choice seemed to be to shut down the mine in 2012 or make an expensive shift to underground tunnels. Now, thanks to modern mining practices, they found a third course. They'll keep the pit open at least to the year 2017 by making this portion a little wider, steeper and deeper.
Bill Champion, Pres & CEO, Kennecott Utah Copper: "It would not have created value several years ago. Because we operate more productively, more efficiently, it will now create a value for us going forward."
The terraces where the visitor center sits will soon be gone. Furniture and exhibits are moving to a new location.
The expansion gives Kennecott at least another five years here. But there may be a lot more years because the underground mining concept is still very much alive.
Dean Gehring: "The early returns we're seeing on our exploration work are very encouraging and I'm very optimistic that's the case."
The new visitor center will open April First. And, by the way, if you add up ALL the waste rock they'll remove over the next five years, just getting to the ore, according to my calculator it would fill the Delta Center about 300 times!!!
×
Most recent Utah stories