Estimated read time: 2-3 minutes
This archived news story is available only for your personal, non-commercial use. Information in the story may be outdated or superseded by additional information. Reading or replaying the story in its archived form does not constitute a republication of the story.
Ashley Hayes ReportingA man's violent history is revealed, a day after he's shot and killed by police. Taking a look at the criminal history of William Florez, some people may wonder why he was even out of prison.
Fifty-one-year-old William Florez's crimes date back to the '70s. Police say on a 100-point scale of how dangerous they considered Florez to be, he was a 72.
Lt. Scott Sansberg of the Ogden City Police Department says, "We believe at this time there were two officers that fired the weapons, one an Ogden City police officer, one a Layton City police officer. They have both been place on administrative leave pending the investigation."
According to the Salt Lake Tribune, in 1976 Florez barricaded himself in a house and exchanged gunfire with police. After being released, he returned to prison for hitting his father-in-law over the head with a bottle.
Five years after his standoff with police, in 1981 he was charged with raping, robbing, and cutting a woman.
Five years after he had pleaded guilty to aggravated assault for that crime, Florez killed Steven Myers, stabbing him twice in the chest after finding him in bed with his girlfriend. The conviction was overturned by the Utah Supreme Court. He pleaded guilty to manslaughter.
Florez was released from prison one year ago last June.
Yesterday police say Florez aimed a gun at Layton and Ogden SWAT team officers when they entered his home with a no-knock warrant for selling drugs and weapons. Two officers from those police departments fired at and killed Florez.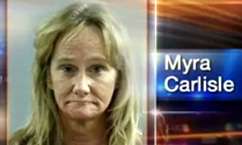 At the same time, police arrested a woman who lives next door to Florez. They believe she was working with him in selling drugs. Myra Carlisle was arrested for distributing narcotics. She's been charged with misdemeanors in the past for theft and owning drug paraphernalia.
The two officers that fired at Florez have been placed on administrative leave. The Weber County Attorney and the Ogden Police Shooting Review Board are investigating the shootings.
×
Related links
Most recent Utah stories