Estimated read time: 2-3 minutes
This archived news story is available only for your personal, non-commercial use. Information in the story may be outdated or superseded by additional information. Reading or replaying the story in its archived form does not constitute a republication of the story.
GRANTSVILLE -- American flags lined the sidewalks outside Tate Mortuary in Tooele Thursday night.
Soldiers were there too, as well as many people in the community. All of them came to support Jordan Byrd's family and to say goodbye to him.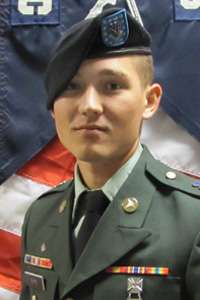 "It's overwhelming. I mean, just coming in from that motorcade, and just seeing the thousands of people lined up across the street and the flags waving everywhere, we were just overwhelmed," said Derek Dalton, Byrd's cousin.
He's talking about this past Tuesday, when Byrd's body came back to Tooele County to thousands of people lining the street to welcome him home. Thursday night, during his viewing, they came back.
"It's just amazing," Dalton said. "Strangers will come up to me and tell me stories, and I'm like, 'Yeah, that's my cousin. How did you know him?'"
But for all the people who came to Byrd's viewing, a member of the Utah Patriot Guard was making sure it wasn't interrupted.
"We're not here for us. We're here for the family," said Dennis Tracey, a ride captain with the Utah Patriot Guard.
Rumors are spreading that members of the Westboro Baptist Church in Kansas may protest at Byrd's funeral Friday, as they have at many military funerals across the country.
The Patriot Guard says they won't let the family be bothered by the protesters.
"This is a moment that never comes again for a family," Tracey said, "and if someone disrupts it, if someone takes this sacred moment and turns it into a political statement, it isn't right."
Byrd's family has already been through enough.
Byrd was killed last week in Afghanistan after rushing to the aid of another soldier who was shot in combat. That soldier lived, but Byrd died after being hit by a bullet from a sniper.
Byrd leaves behind a wife and a 1-month-old son.
"Tomorrow will be a tough day," Dalton said, "but we all know he was a hero, and he wouldn't have wanted it any other way."
There is another viewing scheduled for Byrd Friday morning from 10:30 to 11:30 at Tate Mortuary in Tooele. His funeral service begins at noon at the Tooele South Stake Center on 1025 Southwest Drive.
After the funeral, Byrd's burial will take place at the Grantsville City Cemetery.
E-mail: acabrero@ksl.com
×
Related stories