This archived news story is available only for your personal, non-commercial use. Information in the story may be outdated or superseded by additional information. Reading or replaying the story in its archived form does not constitute a republication of the story.
GRANTSVILLE -- The American flags outside the Byrd family home in Grantsville fluttered silently in the fall breeze Thursday evening. Inside the home, though, there was plenty of activity.
The family was gathering to mourn the loss of one of their loved ones. Nineteen-year-old Army Pfc. Jordan Byrd was killed Wednesday while serving as an Army medic with the 101st Airborne in Afghanistan.
Jordan Byrd, stationed in Fort Campbell, Ky., was killed while working near the Pakistan border. His family doesn't have all the details on how he died, but they were told he was shot while helping one of his fellow soldiers, who had also been shot during combat.
"He was just so passionate about what he did, and he loved it," said Byrd's aunt, Jodi Steinfeldt.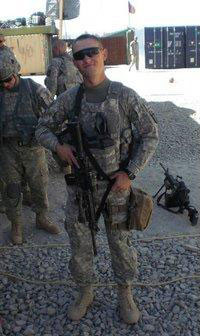 Jordan Byrd's grandfather, Richard Pitt, said Jordan talked to his father on Sunday before going on his second patrol after arriving in Afghanistan. His parents are now traveling to Dover Air Force Base in Delaware to await the return of their son's body.
Jordan Byrd graduated from Dugway High School in 2009 and wanted to become a doctor. His family says he loved helping people and figured joining the military would be a way for him to get through medical school.
"He surprised us all by coming home and saying he joined the Army, and he just figured it was a better way to get his education," Steinfeldt said.
Jordan Byrd was married less than a year ago. His son, Ayden, was born just five weeks ago, right before he was deployed to Afghanistan. The military gave him permission to deploy a week late so he could be there for his son's birth.
"I don't know what I would've done if he wasn't there," said his wife, Savanna Byrd. "He was there every second by my side the whole time; so it was great to have him there, to see him hold him (Ayden) and be there with him."
Savanna Byrd is thankful she has some pictures of Ayden and Jordan together. She said the smile on her husband's face is something she'll never forget.
"His smile, that's just Jordan," Savanna said. "He was always happy, just always happy no matter what."
The family also shared some stories about how they'll remember him. For Abby Byrd, Jordan's younger sister, she says she'll cherish the time he surprised her at her school locker after coming home on leave from military training.
"I had no idea he was going to come. He was in his dress uniform, his hat and everything. I was just so happy to see him," Abby Byrd said. "He was my best friend."
The family is still waiting to hear when Jordan Byrd's body will get back to Utah. From there, they can make funeral arrangements.
During a candlelight vigil Thursday night, dozens of people remembered his dedication to helping others.
A woman named Jacklyn said, "He loved it. He loved helping people. He loved his job. He was encouraging people to join. He was just amazing."
Jennifer Harding said, "He was amazing. He touched so many people's hearts. He was never down."
Meanwhile, a trust fund has been set up for Ayden Byrd at the Dugway Federal Credit Union. Savanna Byrd says she can't wait to tell her son how happy his father was during his birth and how he died serving his country.
"Just that he was a hero," she said. "He was doing what he loved, and I think he wouldn't have wanted it any other way."
Jordan Byrd is the fourth Utah soldier to die in Afghanistan in the last two months.
-----
Story compiled with contributions from Alex Cabrero and Steve Fidel.
×
Photos
Related Stories