Estimated read time: 1-2 minutes
This archived news story is available only for your personal, non-commercial use. Information in the story may be outdated or superseded by additional information. Reading or replaying the story in its archived form does not constitute a republication of the story.
John Daley ReportingThis Veterans Day in Utah there have been plenty of the traditional ceremonies honoring our military men and women, but this year we're also seeing something else, dissent over the Iraq War.
Today as a solemn salute to veterans was happening at Camp Williams, a much smaller group of veterans staged a peace rally in Salt Lake City.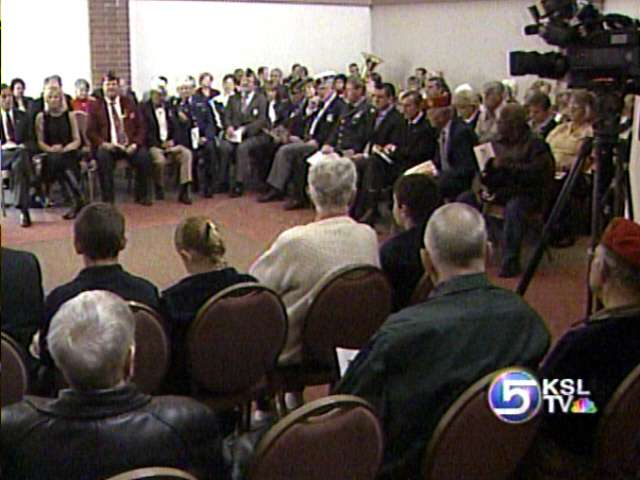 At Camp Williams a service at the Utah Veterans Cemetery and Memorial Park featured all the familiar sights and sounds of Veterans Day -- the pledge of allegiance, the presentation of colors, a wreath presentation, a singing of Amazing Grace, a salute to World War II Veterans, and a speech by Governor Jon Huntsman saying all we have in America, the foundation of our dreams as a nation, are built on the sacrifices of our veterans.
Gov. Huntsman: "Why is it that we're able to have dreams as opposed to those memories? I would argue that it's because of you in this room, who are in uniform, who have protected our liberties and our way of life."
Across the valley in Salt Lake City something rarely seen on Veterans Day, a group of veterans held a small but sincere peace rally and spoke out against the Iraq War.
Samuel King, Vietnam War Veteran: "The war is not accepted by all citizens. Being a veteran, okay I think it's really appalling. Do we ever learn? We've been here before."
At both events veterans spoke of gratitude and pride for the veterans now currently serving overseas.
×
Most recent Utah stories