Estimated read time: 2-3 minutes
This archived news story is available only for your personal, non-commercial use. Information in the story may be outdated or superseded by additional information. Reading or replaying the story in its archived form does not constitute a republication of the story.
OREM -- An Orem police officer enjoyed a reunion with someone he first met 23 years ago.
The officer was on duty in 1987 when he responded to a 911 call from a woman having a baby. That baby, now a married man, met the police officer who delivered him. It was somewhat of a chance meeting that came about all because of his own interest in becoming a police officer.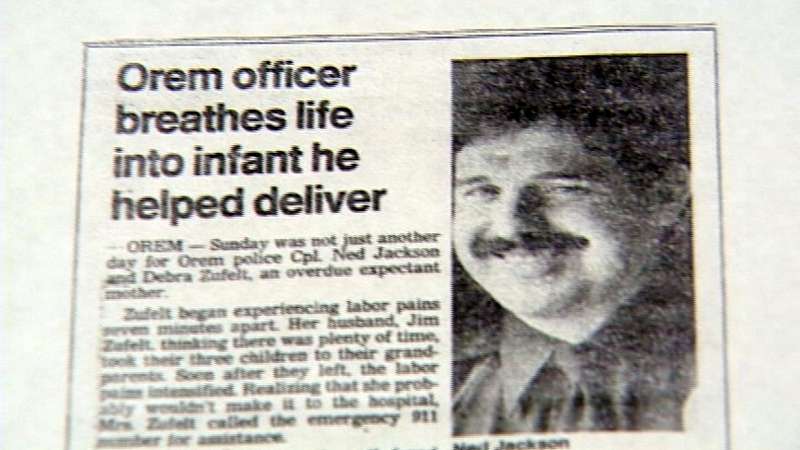 Jake Zufelt has heard the stories over the years and seen the newspaper articles.
"Growing up, I'd always heard the story from my grandparents and my parents, and I'd done things in school about myself for something special in your life so I'd make a board with newspaper clippings and tell the class about it," he said.
For the first time Tuesday, Zufelt met the officer who delivered him and probably saved his life: Capt. Ned Jackson of the Orem Police Department.
Jackson clearly remembers the day in February of 1987. He was on routine patrol on a Sunday morning when a woman in labor called 911 to say she wouldn't make it to the hospital.
Jackson luckily knew how to deliver a baby after helping deliver his own children.
"I just thought, 'Oh, no big deal, I've done this before,' so there was no panic," he recalls.
But there were complications: The umbilical cord was wrapped around the baby's neck.
"He was blue, wouldn't start breathing. So I had to do a couple of breaths, mouth to mouth to get him started, and then he took off screaming," Jackson said. "About the time he's screaming good, paramedics show up, the other officer shows up, dad shows up, everybody shows up at the exact time."
Zufelt has an interest in becoming an officer himself and is taking a law enforcement class at UVU taught by an Orem officer.
"I asked him if he'd heard of Ned Jackson or knew him and he said, 'Well yes, he's my boss!'" Zufelt recalls.
The meeting was arranged as Jackson got to relive one of his favorite memories as a police officer.
"If people say to me, 'What's the high point of your career?' that's it, that one day," he said. "I still get a warm feeling just thinking about it. It was just so fun, it's what you are there for as a police officer."
It may have inspired the next generation to seek out a career serving the community.
"I'll definitely remember (the meeting) today, can't really remember the events of 23 years ago," Zufelt said. "I'm definitely grateful and excited to be here to meet Ned Jackson finally."
It's possible the two could meet again. Zufelt is enrolled in the criminal justice program at UVU and hopes to someday become a police officer. He says he couldn't think of a better place to work than in his hometown of Orem.
------
Story compiled with contributions from Sam Penrod and Cleon Wall.
×
Most recent Utah stories