Estimated read time: 2-3 minutes
This archived news story is available only for your personal, non-commercial use. Information in the story may be outdated or superseded by additional information. Reading or replaying the story in its archived form does not constitute a republication of the story.
GREAT SALT LAKE -- The Great Salt Lake is approaching record lows. The water level recently hit its lowest point since the early 1960s, and it's causing problems for the marina and boaters.
Great Salt Lake Harbormaster Dave Shearer says it's happened before over the years, and it's happening again: The water gets too low and some boats can't make it out of the Great Salt Lake State Marina.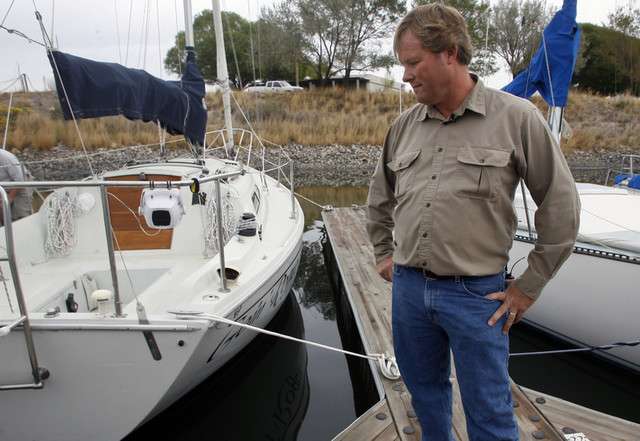 "We have about 20 percent of the boats, the slip renters, that are actually trapped in the marina in their slips," Shearer says.
This time the lake is nearing record low water levels. The Great Salt Lake drainage area had a dismal winter snowpack last year: only 59 percent of normal.
Shearer says normally the lake rises about two feet, but this year it only came up one foot. That, coupled with drought conditions over the last 10 years, results in low water levels.
"We are now at the lowest we've been -- historic low is 1963 -- and it's creating some challenges for us out here," Shearer says.
Shearer says the shallow water makes it near impossible for larger boats to get out onto the lake because the mouth of the marina is only four-and-a half feet deep.
"Some of these boats have keels that are more than four-and-a-half feet, so they are going to be stuck in here until the water comes back up in the spring," Shearer says.
The shallow water is causing problems even for boaters who can make it out for a day on the lake. Tim Loveday took his sailboat, "Goin' Rogue," out to Stansbury Island Sunday and ran into trouble.
"About four miles off the island things got shallow real fast, and [I] had a hard grounding with the boat, broke the rudder and was stuck on the reef for a while," Loveday says.
He says the rudder on his boat snapped in half. He had to call a rescue boat to help him back to the marina.
"I've never seen it that shallow," Loveday says. "That area should have about 12 feet of water; instead, it's about four-and-a-half [feet deep]."
The low water level is also causing problems for hunters.
"The areas the duck hunters like to hunt on, they're getting a little bit more challenging to get in there," Shearer says. "You can still get in there, but because of the reef and the shallowness it's tougher to get there."
Shearer also says the Great Salt Lake helps recycle drinking water and feeds reservoirs, so Utah needs a good winter or things will get worse.
This is the third year in the last 10 where boats have been stuck from August until spring. Right now, all boaters can do is wait and see how this winter shapes up.
-----
Story compiled with contributions from Anne Forester and Nkoyo Iyamba.
×
Photos
Most recent Utah stories