Estimated read time: 2-3 minutes
This archived news story is available only for your personal, non-commercial use. Information in the story may be outdated or superseded by additional information. Reading or replaying the story in its archived form does not constitute a republication of the story.
Ashley Hayes Reporting A local construction company and some volunteers made sure the veterans' plots at the Salt Lake City Cemetery were in order this Memorial Day weekend.
Two months ago, two Eyewitness News viewers called us concerned with the condition of the veterans' section of the cemetery. Stones were sunken, tipping over, and damaged from lawn-care equipment.
It was the mens' wish that the stones would be repaired in time to honor the veterans buried there this Memorial Day. Well, it seems they got their wish.
The owners of Onyx Construction company have parents who were veterans. They saw our story and stepped in to reconstruct the veterans' section of the cemetery.
In just two-and-a-half weeks the difference is striking. They completed the west side in time for Memorial Day, a gesture that hasn't gone unnoticed by the men who originally called for help.
Marty Pratt said, "These are people who fought and served for us, and Memorial Day is when we honor them. This is an honor to them."
For the first time in years, Pratt and Jason Ahlman feel encouraged as they walk among the fallen veterans in the Salt Lake City Cemetery.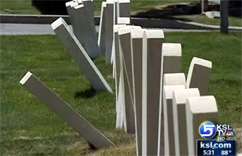 Up until this Memorial Day, the men say the veterans were disrespected by toppled over headstones, sunken into the ground so far you could not read the inscriptions. Many were chipped from weed-eating.
Jason Ahlman is active duty U.S. Air Force. He said, "It was an eyesore. It was a bad disgrace. It didn't honor the veterans at all. But from what I see now, it's a complete 360."
Two men and their business are responsible for the turnaround. They donated $150,000 and most of the manpower to fix all 1,500 headstones.
Onyx Construction came in and within a few short weeks completed the west section of the cemetery. Their new goal is to do the same for a nearby hillside by Pioneer Day, July 24.
Hank Gundry of Onyx Construction said, "It's a wonderful project. We're all happy just to work on it."
Craig Moyes is one of the company's owners. "It makes you feel good," he told us.
The improvements are expected to sustain the elements. The stones are set in gravel and concrete, reinforced by re-bar, so for many Memorial Days to come, the living can feel proud of how those who fought for our freedom are remembered.
Norman Nelson, VFW Commander in Utah, said, "It's meaningful to me because they are my comrades in arms. I know what they went through."
Ahlman said, "Patriotism is alive and well in Utah."
×
Related links
Most recent Utah stories