Estimated read time: 2-3 minutes
This archived news story is available only for your personal, non-commercial use. Information in the story may be outdated or superseded by additional information. Reading or replaying the story in its archived form does not constitute a republication of the story.
Keith McCord ReportingQuestar is making another friendly reminder about getting our furnaces adjusted, and not just the annual "change-the-filter" request. In 1998 Questar announced its "Green Sticker" program and gave us 10-years to comply. So have you?
The deadline is still nearly three years away, but Questar wants us to think about adjusting our furnaces and water heaters, and getting these bright green stickers attached, sooner rather than later.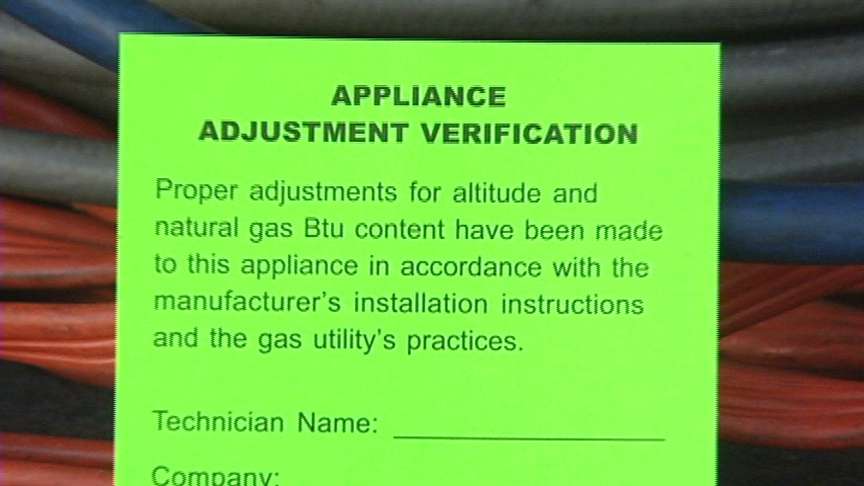 Steve Chapman, Questar Spokesman: "What we're talking about here is making sure your furnace has the proper fuel and oxygen mixture so you get complete combustion."
This adjustment is necessary because Questar receives it's natural gas from several different sources, and not all natural gas is created equal. So you have to adjust your furnace and water heaters so the gas will burn more efficiently.
Questar conducts annual customer surveys and has found that most-- 70 to 80 percent-- are aware of the Green Sticker adjustment program, but they're taking their time in actually getting it done.
Steve Chapman, Questar Spokesman: "We estimate right now probably 40 and 45 percent of our customers have gotten this inspection done and gotten the sticker put on."
During this 10-year period Questar has been blending and treating the various gas supplies to the tune of 4-5 million dollars a year, so they'll work with all furnaces. Now, if you have replaced your furnace since 1998, or built a new home with new appliances, they are most likely adjusted already. If you're not sure, call a licensed contractor.
Steve Chapman: "So we have a little ways to go and we're getting closer to that 2008 cutoff, so we're trying to encourage folks not to wait until the last minute."
Heating and cooling service companies can do the adjustment. Questar suggests shopping around for the best price.
The Green Sticker adjustment affects customers in Utah only. Customers in Wyoming are not required to make the change.
×
Related links
Most recent Utah stories