Estimated read time: 3-4 minutes
This archived news story is available only for your personal, non-commercial use. Information in the story may be outdated or superseded by additional information. Reading or replaying the story in its archived form does not constitute a republication of the story.
ST. GEORGE -- The families of two St. George teens struck by lightning say they're cautiously optimistic their loved ones will survive. Their doctors are beginning to feel that optimism as well.
Sixteen-year-old Dane Zdunich and 17-year-old Alex Lambson were struck by lightning Tuesday afternoon outside Snow Canyon High School as they waited for a ride home from school. The teens were flown to a Las Vegas hospital with life-threatening injuries.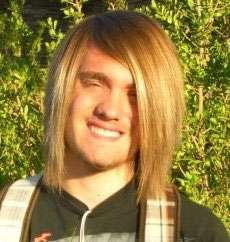 Doctors believe the lightning bolt struck Dane Zdunich directly, entering at the top of his head and exiting through both his feet. They say Alex Lambson was hit by the flash of the lightning bolt and suffered second- and third-degree burns all over his body.
Alex's burns go from his face all the way down his body. Doctors say the electricity probably traveled around his belt, sending burns down his backside as well.
"(Alex is) pretty burned up. His clothes were just -- they handed me a bag of smoldering ash, basically," said Alex's stepfather David Talley. I am grateful to them."
Even a day after the incident, the family cannot believe what they're dealing with.
"He has a better chance of winning the lottery than being struck by lightning in this manner. It's hard to get a handle on," said Alex's father Arden Lambson.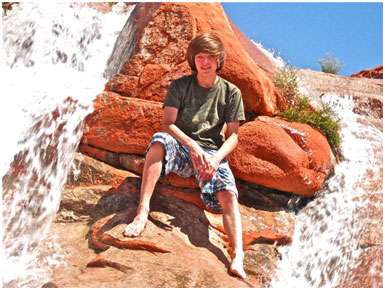 Quick responders credited for saving boys' livesDavid Talley told KSL News Wednesday that he credits quick action from teachers at the school for saving his son's life.
"They rushed to help so quickly and started CPR so quickly, and because of that they (the boys) are alive," he said. "I don't know who those faculty members are, but
"His heart stopped beating when this happened, and the school deserves a lot of credit for resuscitating him and his friend immediately," Dr. Meena Vohra, chief of pediatrics.
When paramedics arrived, they cleared students out of the area and let them go home for the day. Trauma counselors were on hand today to assist students who witnessed the incident.
Small, encouraging progress made
Wednesday morning, Dane Zdunich's twin sister told KSL her brother's condition is improving.
Related
"He's been waking up, he is responding -- like he'll nod his head, answer questions, and he squeezed my dad's fingers and wiggled his feet. So, he's doing better," Kendle Zdunich said.
She spoke to KSL by phone as she was preparing to drive from St. George to Las Vegas, where her brother is currently being treated in the pediatric intensive care unit at University Medical Center.
According to family members, both teens are being heavily sedated with their body temperatures lowered. But after 24 hours they say the doctors will warm them back up.
"He's made some eye contact last night so he's aware we're here, but at the moment he's not awake," Kaleen Talley said of Alex.
Kendle Zdunich said her family is just trying be positive and help the boys through the situation.
"They're all just trying to stay calm up there," she said. "They don't want to freak him out for the few minutes that he's awake, so they're just trying to stay calm and keep him calm."
"We appreciate the prayers, because they are working," said Leslie Broderick, Dane Zdunich's mother.
------
Story compiled with contributions from Shara Park, Nicole Gonzales, Andrew Adams and Mary Richards.
×
Related stories
Most recent Utah stories