Estimated read time: 2-3 minutes
This archived news story is available only for your personal, non-commercial use. Information in the story may be outdated or superseded by additional information. Reading or replaying the story in its archived form does not constitute a republication of the story.
Shelley Osterloh ReportingEntertainer Naomi Judd and the United States Treasurer were two of the women who spoke at today's annual Utah Women's Conference. This is the 21st year Senator Orrin Hatch and his wife Elaine have hosted the conference. "Discovering the Diversity and Unity of Women" was the theme.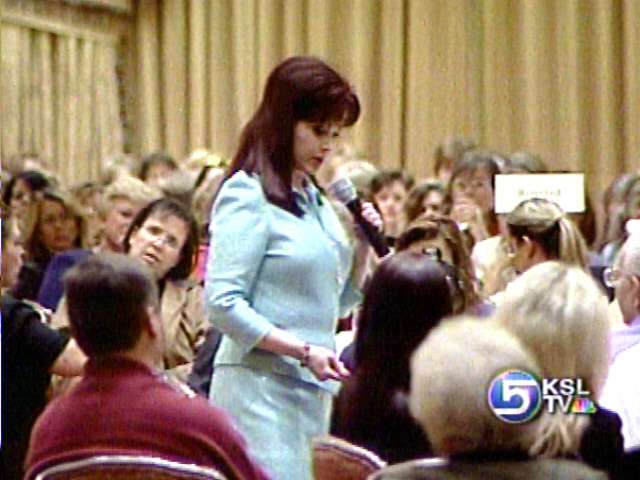 It's aimed a empowering women to find solutions to the problems we all face everyday. In workshops and break out lectures women can share and learn better ways to communicate, raise kids, deal with problems, start business set goals, feel healthier and much more.
Among the key note speakers was Anna Excobedo Cabral.
Anna Excobedo Cabral: "I thought I'd spend just a few minutes talking a little bit about how I became the treasurer of the United States, because it's not one of those clear career paths."
As Treasurer of the United States, she says it's important to mentor other women.
Ann Escobedo Cabral: "And so for me to be able to participate in some small way to help women understand that anything is possible as long as you work hard enough, put your nose to the grind stone, and dream big enough to enlarge those opportunities."
The other keynote speaker was popular entertainer Naomi Judd, who was abused wife and single mother. She says women need to have hope and know they have a choice in who they are.
Naomi Judd: "I've been broke, beat up, shot at, I survived a fire, a flood. I felt anonymous, faceless, desperate single mom, and at every point I just had home. And hope helps you cope."
It was a day of messages and stories in information that women say was inspirational.
Fawn Harker Tucker: "It's just a feel-good experience. I need to come and makes me want to set goals and believe in myself again."
Donalda De Adder: "It makes me proud to be a woman, that I can come here and associate with other women and know that I am a person of worth."
Wendy Peck: "I felt like I was uplifted, like it gave me that renewed hope to try again, to move forward during struggles. I thought it was great."
Though Nami Judd was once down an out, even diagnosed with a life-threatening disease in the early 90's, Hepatis C, she has come back stronger than ever. She has a new cable talk show premiering this month and a book released this week that tells her secrets to a happy life.
×
Most recent Utah stories