Estimated read time: 2-3 minutes
This archived news story is available only for your personal, non-commercial use. Information in the story may be outdated or superseded by additional information. Reading or replaying the story in its archived form does not constitute a republication of the story.
Ed Yeates Reporting While it's still unclear why an 86-year-old driver hit and killed a man and his daughter this week, it does again raise the issue of whether elderly motorists should be tested for age-related responses that could affect their driving.
Salt Lake man Gordon Gordon is learning how to use a prosthetic leg; that's because he lost his own on March 16 of last year when he was hit by an 80-year-old woman.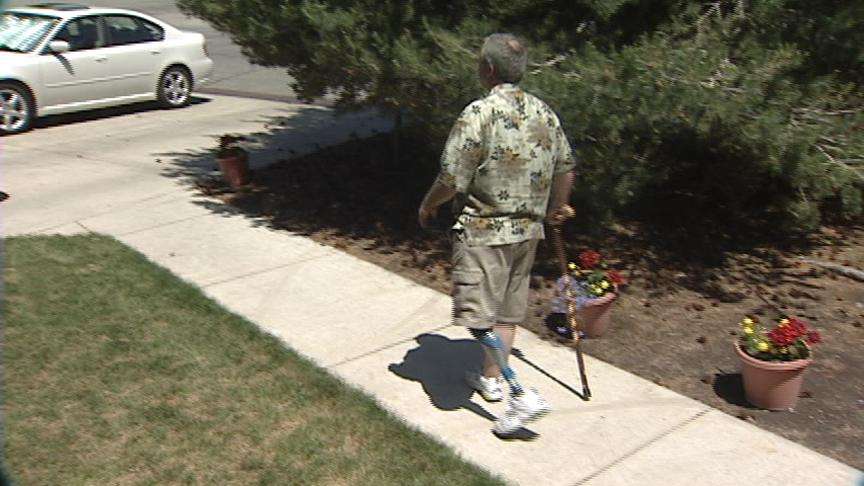 As a utility worker employed by Qwest, Gordon was working at a manhole site at approximately 8425 South 700 East when the 80-year-old woman crossed the median strip, into northbound lanes, crashing through barricades, striking Gordon and severing his leg.
Gordon explains, "Crossing the top of the manhole, catching me between the front end of her car the rear end of the truck we were working out of, and roughly moving the truck 15 to 20 feet."
According to police reports, there we no skid marks, no attempt to brake. The driver says she was confused and did not know what had happened. "From the day of the accident until about March 5 of this year I was unable to work; and then I went back to work part time. But it's turned everything around," Gordon says.
Gordon has had multiple surgeries, stump revisions and infections that required special treatment inside hyperbaric chambers at LDS Hospital.
"I attended my last soccer game last weekend as a coach. And I won't be able to do that any more," Gordon says. "It just takes too much out of me."
Gordon plans on attending the funerals for the father and daughter who were killed Monday. "I'm lucky," he says. "I'm alive." But emotionally, Gordon says, "I know how they feel, and I have empathy for them and I can love that widow and her son because I've been there."
Gordon believes that after a certain age, motorists should be required to take both a written and a behind-the-wheel driving test every year. He's talking to Utah legislators now about what is certainly becoming a controversial issue.
×
Most recent Utah stories