Estimated read time: 2-3 minutes
This archived news story is available only for your personal, non-commercial use. Information in the story may be outdated or superseded by additional information. Reading or replaying the story in its archived form does not constitute a republication of the story.
Richard Piatt ReportingThe storm has come and gone, for now. But what we have is enough to whet (or wet) the appetites of skiers and snowboarders across the state.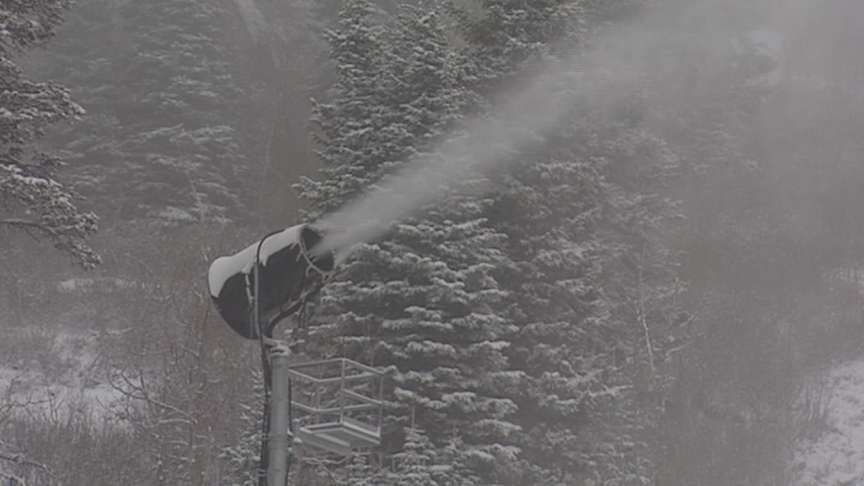 It's a classic sight: snow in the mountains from Park City and Logan down to Sundance and Brian Head. In the meantime, people in valleys are coping with soggy roads and soggy leaves. A lot of people haven't even had a chance to rake up all those leaves yet. So when cooler temperatures, wind, and rain hit, some of those leaves started to clog things up.
City workers have a big job on days like this, keeping thousands of drains clear to prevent standing water on hundreds of miles of streets.
The usual soggy inconvenience brought out the umbrellas for the first time in a while. But if you were in the mountains, you needed something more because there's snow.
The Meidell family had an unexpected winter playground at the Snowbird Center today. Dad had to warm baby Zoey's hands after the cold caught up with the fun.
Phil Meidell, Likes The Snow: "We didn't bring up very good snow clothes, but we're making do!"
Evan Meidell: "I wish I had my snowboard. Because it wasn't snowing when we got up here."
The first snowball fight of the season is a good sign for the ski resorts. They've been nervously waiting for accumulation.
Laura Schaffer, Snowbird: "I think we had a few storms, but this one really feels like we're in November. It's the light fluffy stuff we like here in Utah, this is it we're starting the season."
Snow making machines supplement mother nature, every resort does it, which makes the cooler temperatures as important as the snow itself. Right now its 29 degrees where I'm, standing.
Most resorts are hoping to open in a couple weeks. That means snow-making will have to be almost around the clock, if it stays cold enough. In the mountains, that shouldn't be a problem.
×
Related links
Most recent Utah stories