Estimated read time: 3-4 minutes
This archived news story is available only for your personal, non-commercial use. Information in the story may be outdated or superseded by additional information. Reading or replaying the story in its archived form does not constitute a republication of the story.
Ed Yeates Reporting Three years ago, a 12-year-old boy and his parents became embroiled in a legal battle with the state of Utah.
It began at Primary Children's Hospital after a doctor told Daren and Barbara Jensen their son had deadly Ewing's sarcoma and needed aggressive chemotherapy right away.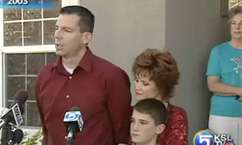 The Jensens didn't agree. Defiant, they took Parker and fled the state. Utah filed charges which triggered protests, and an emotional battle ensued.
In 2003 Parker said, "The state of Utah needs to leave us alone."
Eventually the state did leave them alone, dropping the charges, but not before a judge told the Jensens he would hold them personally responsible for Parker's welfare. That's what the Jensens wanted to begin with, to make their own decision on what they thought was best for their son.
So, were they right? Ed Yeates visited with the family and has the story you'll only see on KSL 5.
The Jensens are leading pretty much a normal life. Parker's life is as normal as you could expect for any 16-year-old.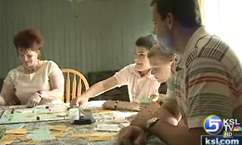 The Jensens play a game of Monopoly. It's fun pretending risks on a board game, but Daren and Barbara took a real calculated risk with their son when they walked away from recommended chemotherapy every three weeks for 47 weeks, treatment doctors said was essential to save Parker's life.
Barbara said, "We just had a sense that Parker was OK from the beginning. I just feel like we had made the right decision at the time."
Ewing's sarcoma! That's what the pathology test came up with in 2003. The cancer is deadly, usually coming on full-bore without treatment within a year to two years after diagnosis.
But it's been more than five years since that bump, as Daren describes it, was found on Parker, and removed. Parker still has no signs of cancer.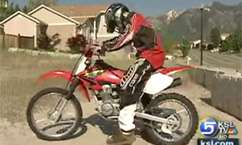 Daren explains the message from a doctor who examined Parker on his last visit. "There's nothing here, and so there's no sense treating nothing," he said.
Parker said, "I feel really good. I've been exercising a lot, keeping up my health, making sure I'm healthy all the time. [I've] been eating better than I used to, because I used to eat a lot of junk food."
Parker does yard care and roofing work for money. He's about to get a driver's license. He snowboards, waveboards, goes boating and motorbiking.
While Daren and Barbara say they are not bitter about what happened to their family in 2003, they are involved in a lawsuit because of what they say it did to them financially.
"If we are being held at a certain standard and we are being held responsible for what does or does not happen to Parker, then we're going to hold the state, or those involved, responsible for the situation they put us in," Daren explained.
But as of now, from all appearances Parker's situation is nothing but good.
"They said I wouldn't grow," Parker told us, "I wouldn't eat a lot. But I've always eaten a lot. [I'm] hitting a growth spurt, and I'm getting taller."
A childhood cancer specialist told us the odds are in Parker's favor with each passing year. But a caution: While not the norm, the specialist told us he has seen rare cases where Ewing's sarcoma has surfaced 10 to 15 years later.
×
Most recent Utah stories