Estimated read time: 2-3 minutes
This archived news story is available only for your personal, non-commercial use. Information in the story may be outdated or superseded by additional information. Reading or replaying the story in its archived form does not constitute a republication of the story.
John Hollenhorst ReportingA Salt Lake company is taking technology it developed for the military in the Middle East and putting it to use in a battle closer to home. Tomorrow the company will set up at Lake Powell to fight the invasion of a nasty little creature that can do billions of dollars in damage.
If you tow a boat to Lake Powell this year, you will be grilled about where your boat has been. Lake Powell is on high alert to fight off a possible invasion of Quagga Mussels and their close cousins, Zebra Mussels.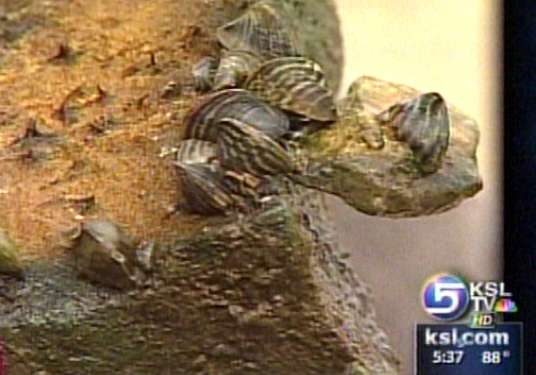 Who would have thought a tiny little clam not much bigger than your thumb could cause such a big stir? The National Park Service ordered portable wash units into the battle this week at Wahweap Marina, later at Bullfrog. It's the first line of defense against a big problem.
Alan McCormick, with Hydro Engineering, Inc., said, "It could be huge. And we do know that one way to maintain keeping these invasive species out of a lake is to clean a boat prior to them being input into the lake."
Quagga Mussels and Zebra Mussels came from Asia accidentally on a ship in 1988. They spread like wildfire through the Eastern U.S. This year they were found in the West for the first time, at Lake Mead. Divers at Lake Powell haven't seen them yet. The Park Service wants to stop boat owners from unwittingly bringing in microscopic baby mussels.
"I don't think you have the choice not to at least attempt to keep them out," McCormick said.
The problem is they reproduce at astounding rates, covering every available surface underwater. They've done billions of dollars damage in the east by clogging motors, pumps, turbines and filters. McCormick says it's "way more expensive to deal with them from a remediation standpoint than it is to keep them out."
The wash units use high-pressure hot water. Anything over 140 kills mussels instantly. Every compartment of the boat has to be washed.
Hydro Engineering created the portable system for military vehicles in Afghanistan, Iraq and nearby countries. Overseas they have a similar purpose, washing off seeds. "You cannot carry an invasive weed from one country to the next," McCormick said.
For now, the park service is paying for the wash, although that may change. It's generally required if your boat was in infested waters in the last 30 days, but all boat owners must certify their boat "mussel-free". The rules are confusing. To get details and cleaning techniques, we've included a web site at the right of this story.
×
Related links
Most recent Utah stories