Estimated read time: 5-6 minutes
This archived news story is available only for your personal, non-commercial use. Information in the story may be outdated or superseded by additional information. Reading or replaying the story in its archived form does not constitute a republication of the story.
SALT LAKE CITY -- KSL and the Deseret News learned Monday that the state of Utah paid out a $13 million settlement to one of the unsuccessful bidders for a record $1.7 billion Utah County road contract. The deal is at the center of a controversy over the influence of campaign contributions to Gov. Gary Herbert.
State settles with construction company
In a series of letters obtained by KSL and the Deseret News, the Flatiron/Skanska/Zachry (FSZ) bid team accused the state of giving the winning bidder favorable treatment. Those letters were addressed to the Utah Department of Transportation and asked the agency to reopen the bid for the reconstruction of Interstate 15 through Utah County.
---
The process was fair and it was above board. We didn't want to enter into a contract with a black cloud hanging over out head.
–John Njord, UDOT exec. director
---
A Jan. 5 letter from a Washington, D.C., law firm representing FSZ said UDOT's evaluation oversight team "failed utterly in its duty to provide 'an independent observation of the evaluation and selection process'" for the bid which was awarded last December.
But instead of reopening the competition for the contract, UDOT settled with FSZ for $13 million.
The settlement amount was based on the hundreds of employee hours the companies involved invested in putting together their bid.
UDOT executive director John Njord said the settlement of "around $13 million" came in January so work could get underway on the massive I-15 CORE project without the threat of further action.
"The process was fair," Njord said. "We didn't want to enter into a contract with a black cloud hanging over out head."
The UDOT chief said he sat down with members of the FSZ bid team to reach the settlement. During their discussion, Njord said there was no talk of the governor's campaign contributions from members of the winning bid team.
"That never came up," Njord said. "For them, this is all about their proposal. They invested a year's time in putting their proposal together … They really thought they had won."
Governor defends campaign donations
The news of the settlement comes as Herbert is defending himself against reports he accepted a total of $82,500 from members of the winning bid team, Provo River Constructors.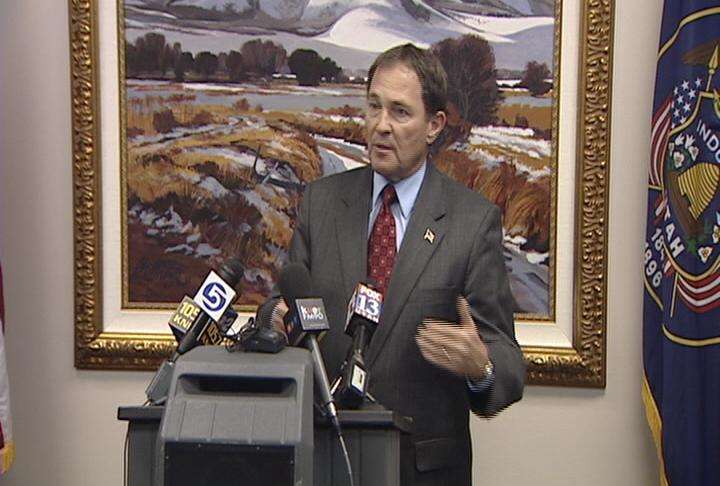 One of those bid team members, Guy Wadsworth, gave $50,000 and had two private meetings with the governor in the weeks before the contract was awarded.
Monday evening, Wadsworth issued a statement saying he does "not apologize for supporting the governor's candidacy," saying his company, Wadsworth Brothers Construction, has achieved its success "through hard work and quality workmanship."[CLICK HERE to read the entire statement from Guy Wadsworth].
At a news conference earlier in the day, a number of top GOP leaders in attendance, the governor defended his practice of accepting large campaign contributions from state contractors and said he had nothing to do with the I-15 bid.
"Again, I can tell you these bids come through a very complicated process. I don't know who wins them, who loses them," Herbert said. "Some of my friends get them, some of my friends don't get them. That's just kind of the process.
"I'm just disengaged," the governor continued. "That's not my responsibility. I don't always know who's given money to the campaign. That's the campaign's responsibility. The quid pro quo, the connection, is something I'm virtually unaware of."
Governor accuses opponent of 'mudslinging'
At the news conference, GOP leaders also accused Herbert's Democratic challenger, Salt Lake County Mayor Peter Corroon, of turning the campaign negative by raising questions about campaign money and limited access to a 50-page memo.
---
In Chicago politics, they call it 'pay for play.' But we're not in Chicago and these kinds of tactics ought not to be tolerated by Utah voters.
–Lt. Gov. Greg Bell
---
Lt. Gov. Greg Bell labeled the concerns raised about Herbert as "entirely a smear campaign based on innuendo" and said voters should reject the negative turn the gubernatorial campaign has taken.
"In Chicago politics, they call it 'pay for play.' But we're not in Chicago and these kinds of tactics ought not to be tolerated by Utah voters," Bell said.
"There's just no justification for this type of mudslinging," Herbert said.
State GOP Chairman Dave Hansen said someone should be fired at the Corroon campaign for producing a document detailing concerns about the governor's actions.
"They've basically taken a chainsaw and fired it up and attacked everyone in its path," Hansen said. "They're whacking away. They don't care about the effect that it's having not only on the candidate, but on individuals."
Corroon responds to accusations
Corroon responded to the accusations with a news conference of his own Monday afternoon. He made no apologies, saying he backs contribution limits and that the questions he raised are legitimate.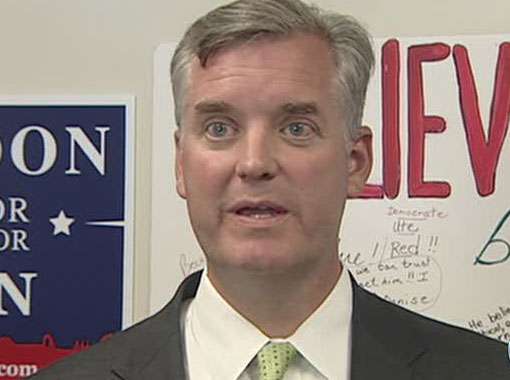 "If the state is settling for $13 million with another contractor, I would be concerned as a citizen; and I am concerned as a citizen," Corroon said.
"The way we can remove all questions is if the governor releases all information about the meetings, the appointments and the contracts," he added, "just to let the citizens know why these contracts were let, why these meetings took place, and why these contributions were made."
A spokesman for the governor's campaign says they're tracking down that information and plan to release it to the press.
Last week, Corroon pledged that as governor he would not accept campaign contributions from companies doing "significant" business with the state.
A KSL News analysis of the governor's schedule and his contributor list found several similarities with a case that made news last February, when Herbert's campaign deposited a $10,000 check from a coal mining company the same day he met with them. The approval of their permit to mine in Southern Utah was apparently sped up.
------
Story compiled with contributions from Lisa Riley Roche with the Deseret News and John Daley with KSL TV.
×
Photos
Related links
Related stories
Most recent Utah stories