Estimated read time: 5-6 minutes
This archived news story is available only for your personal, non-commercial use. Information in the story may be outdated or superseded by additional information. Reading or replaying the story in its archived form does not constitute a republication of the story.
LAYTON -- The mother of two children found dead inside a Layton home Wednesday evening has been charged with two counts of aggravated murder.
Sun Cha Warhola, 44, was booked into the Davis County Jail shortly before 4 a.m. Thursday, suspected of strangling her children to death. Thursday night, the Davis County prosecutor filed charges against the Layton mother.
Children's bodies found Wednesday night
Police responded to the home near 2200 North and 3200 East around 6:45 p.m. after receiving a call from the Kenneth Warhola. Apparently he had come home and found the door to the children's room closed. He tried to get in, but couldn't.
---
The two children have markings on their throat and neck area that would be consistent with a type of strangulation case that we've seen.
–Lt. Quinn Moyes, Layton PD
---
He then called out to his wife, who was inside the room, and she asked him to give her 10 minutes. When he came back, he forced the door open and found his children lying on the bed, covered by a blanket.
A probable cause statement says Sun Cha Warhola asked her husband not to look at the children, but he felt his son's face and found it cold to the touch.
"Trying to put yourself in that situation: You have children yourself, and so that's my first reaction is what a devastating, horrible situation that any human being would have to suffer through, let alone children," said Davis County Attorney Troy Rawlings.
Kenneth Warhola then went to the neighbor's house and called 911.
Lt. Quinn Moyes of the Layton City Police Department said, "Police responded to the home to check on those children. Nobody answered the door. Police made entry into the home and that's when they discovered a 7-year-old female and an 8-year-old male unresponsive inside the same bedroom."
The children, 7-year-old Jean Warhola and 8-year-old James Warhola, were both dead.
"There were signs of a struggle in the bedroom," Moyes said. "The two children have markings on their throat and neck area that would be consistent with a type of strangulation case that we've seen."
Court documents say the children had defensive wounds on their arms and legs, and their mother had injuries to her arms and legs that were consistent with a struggle.
Parents have a history with police, courts
Neighbor Rick John says Layton police officers were at Warhola home regularly for the past two weeks, sometimes two hours at a time.
The couple has had problems with the law. A court record search brought up cases dating back 10 years.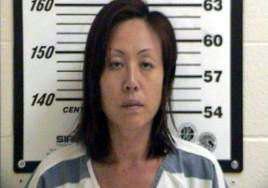 The most recent case was in January. Prosecutors charged Sun Cha Warhola with assault. She later pleaded guilty to a lesser charge.
Kenneth Warhola was also charged with assault on the same date. He too plead guilty to a lesser charge.
Back in 2007 and 2008, prosecutors charged Kenneth Warhola with simple assault and domestic violence in the presence of a child. Both charges were dismissed.
Police say Sun Cha Warhola recently accused her husband of sexually abusing their children, but Davis County declined to file charges.
Rawlings says those allegations are "baseless and completely unfair" to Kenneth Warhola.
John said the family just got back from Disneyland a couple weeks ago. After that, he says, domestic issues started coming up again.
"The kids should have been taken out of the home or something," John said.
Another neighbor, Steve Bailey, told KSL that a few weeks ago he saw Kenneth Warhola pull out of the driveway and Sun Cha Warhola run after the vehicle screaming at him.
Neighbors told police they did not hear any arguing or other sounds indicating a problem at the home. They say Sun Cha Warhola was friendly, but that the couple often kept to themselves.
"She was always friendly," said John. "I never saw it coming, you know? You should look and say, 'Why aren't these kids taken care of?'"
Court records also show that Sun Cha Warhola was charged with disorderly conduct and intoxication in 2002 and 2008.
Neighborhood, community mourns children's deaths
Meanwhile, neighbors are remembering Jean and James Warhola as very well behaved children who showed no signs that anything was wrong at home.
Bailey said they "seemed like normal kids" who would often stop by his yard with their dog. He said the family has lived in the neighborhood for about five years.
John told KSL the kids were very well behaved. "They were good little kids, really good," he said. "She took care of her brother like you can't believe."
Another neighbor, who only wanted to be identified as Kat lives next door to the family. She said that James and Jean came over to her house frequently to chat.
"Just to think that those two sweet children were the victims of something they had no control over, I find it hard to believe," Kat said. "It just fills you with grief and sadness.
Counselors were on hand at East Layton Elementary School Tuesday to help students, faculty and parents deal with the deaths of the Warhola children.
"Some Students sit there and wonder, 'How about if I don't feel sad now? Should I feel sad? Or if I feel sad now, is it OK to feel happy later in the day?' And parents don't necessarily know how to deal with it either," said Chris Williams, community relations director for the Davis School District.
Williams said the students at East Layton Elementary School belong to a tight-knit community and there are a lot of emotions they are dealing with.
What's next for Sun Cha Warhola
The Davis County Attorney's Office has now charged Sun Cha Warhola with two counts of first degree murder. Rawlings says he hasn't officially made the decision, but based on the facts he's reviewed he's leaning toward pursuing the death penalty.
"If the facts as we believe them to be justify it, then we will do it; and right now that's the track, and that's the avenue we're on based on what we know early on in this case," Rawling said.
Sun Cha Warhola is scheduled to appear in court Friday, Sept. 10 at 1 p.m.
------
Story compiled with information from Jennifer Stagg, Sandra Yi, Shara Park and Andrew Adams.
×
Photos
Related stories
Most recent Utah stories