Estimated read time: 2-3 minutes
This archived news story is available only for your personal, non-commercial use. Information in the story may be outdated or superseded by additional information. Reading or replaying the story in its archived form does not constitute a republication of the story.
SALT LAKE CITY -- President Barack Obama recently signed a proclamation declaring September as National Preparedness Month, and the Utah Chapter of the American Red Cross is pushing to get every Utahn prepared with the basics.
Make a Plan
Emergency Checklist
Have you designated an emergency contact person?
Have you picked two family meeting places?
Does your family carry emergency contact cards?
Have you created an evacuation plan for your home and neighborhood?
Do you have batteries in your smoke alarms?
Do you have 72-hour kits for every family member?
Do you have a family emergency kit and pet kit?
Do you have a car emergency kit?
Do you know your child's school emergency plan?
Two local sisters are well on their way to making sure they are self-sufficient if disaster hits. They're also best friends who have lived together for nearly their entire lives.
When the younger sister, Mary Burchett, started volunteering with the American Red Cross, she started to teach her older sister a thing or two.
"Just being a volunteer, seeing the fires that happen and, you know, you never know when something could happen," she said.
"I honestly didn't think about it until Mary started working at the Red Cross and got us involved, aware of the need for being prepared," said older sister Sarah Burchett.
Now the sisters both have 72-hour kits and a first aid kit.
"It definitely gives me peace of mind knowing I can grab my backpack and run out the door," said Mary.
Susan Thomas, communications and marketing director for the Utah Chapter of the American Red Cross, said, "We have fires, floods, evacuations in Utah, and we are at risk for a major earthquake."
Something as simple as a 72-hour kit, she says, will help.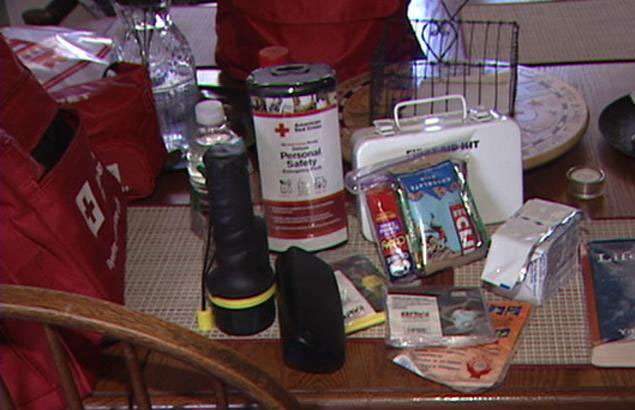 To motivate people to get kits of their own, the American Red Cross is offering 10 percent off of items on its website, RedCrossStore.org, with the code PREPARE.
Online you'll also find a checklist of what to put in your kit, a sample evacuation plan to help you create your own, and more preparedness tips.
"You don't know what is going to happen, and when, and you should always be ready," Sarah said.
Thomas says the Utah Chapter of the American Red Cross is always able to help.
"Say one neighborhood is flooded. The American Red Cross will be there right away," she said.
But if a big disaster hits, don't expect them to be there immediately.
"If you have 5,000 people who all need help at the same time, it's going to take a while for help to get there," Thomas said.
"I want to be able to take care of myself," Sarah said.
For more tips from the American Red Cross, CLICK HERE.
E-mail: abutterfield@ksl.com
×
Related links