Estimated read time: 2-3 minutes
This archived news story is available only for your personal, non-commercial use. Information in the story may be outdated or superseded by additional information. Reading or replaying the story in its archived form does not constitute a republication of the story.
Richard Piatt ReportingThe gloves came off at the second face-off of Republican Presidential hopefuls in two weeks. Some of the jabs were aimed at Mitt Romney; but in Utah, a debate-watching party at the home of one of Mitt Romney's sons tried bringing more people into the Mitt Romney camp.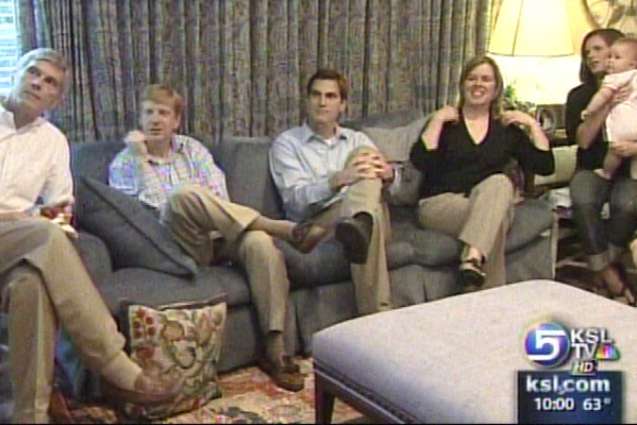 The second Republican debate featured all ten candidates, each taking on the war, abortion, gun control and tax cuts. Across the nation and here in Utah, the Romney campaign is pushing the envelope. One of Mitt's sons hosted one of the 80 Romney debate parties here in this state; there were more than 900 of them in neighborhoods nationwide.
The campaign is piggybacking off tonight's debate to get more people on the Romney bandwagon. Even a year and a half before the election, most of his supporters are 100 percent sure Mitt Romney is their man for President.
Jen Savage, a Romney Supporter, said, "I have done a lot of research, and I don't take this lightly. And I've never worked on a campaign because I don't feel the passion and the positivity."
The adults are thinking of their kids' future, and a personal connection counts.
"It's good to see someone like his son who's close to him, where I can hear personal stories about him and what he's really like as a father," Chris Snow, another supporter, said.
At the debate, Romney, John McCain and Rudolph Giuliani defended their conservative credentials. "In the toughest of states, I made the toughest decisions and did what was right for America," Romney said.
John McCain asked, "We need to have immigration reform. Is there anyone who feels our borders are secure? "
Rudolph Giuliani said, "I, according to George Will, ran the most conservative government in 50 years in New York City."
On the campaign trail the Romney family is offering themselves. Josh Romney travels a lot. "They see the family, they see we're as American as can be, our values are as American as can be," he told us.
Not every Republican supports Romney, but In Utah, he has enough appeal to even turn a few registered Democrats.
"As I look at the candidates from both sides of the aisle, he's the one who can do the best for this country at this time," Christian Gardner said.
But there's still a long way to go in the campaign. Expect a push from all the candidates to sign up more supporters and raise more money.
A trio of top candidates, including Romney, had to defend themselves from other Presidential hopefuls during the debate. Former Virginia governor Jim Gilmore challenged John McCain's conservative values, Romney's health care policies and Rudy Giuliani's pro-choice stance. All three defended their positions and Giuliani said Republicans "should be uniting to defeat the Democrats".
×
Most recent Utah stories