Estimated read time: 4-5 minutes
This archived news story is available only for your personal, non-commercial use. Information in the story may be outdated or superseded by additional information. Reading or replaying the story in its archived form does not constitute a republication of the story.
SALT LAKE CITY -- According to the latest data, the federal government is now kicking undocumented immigrants out of the country at the rate of more than 1,000 a day; that's 400,000 a year.
About half agree to leave on their own ticket. The rest get a free ride -- in handcuffs.
ICE, the Immigration and Customs Enforcement agency, has planes taking off every day from various cities. The deportees they transport face a worrisome future as they cross the border.
The Gateway Bridge connects Brownsville, Texas, to a region of Mexico where, just last week, a drug gang murdered 72 people. It's the ultimate destination for deportees on one particular flight out of Salt Lake City.
Related
Until he was nabbed by ICE agents, Alberto Perez had never been in a plane.
"It feels fun in the airplane, but it feels sad at the same time that I got go somewhere that I don't really know," he said.
Born in Mexico, he came here at about age 5 and never went back.
It's a typical story for 50 or 60 deportees who lift off from Salt Lake every week, headed for a country they barely remember.
Isidro Hernandez is OK with it.
"I'm kind of excited to start out a new adventure in Mexico," he said.
But Perez worries about his wife and son, and his future.
"I mean, everything I have is here. My job, my wife, my family, my mom and dad," he said. "There's pretty much nothing in Mexico for me."
The prisoners are in handcuffs, belly chains and leg restraints, but there's rarely trouble.
---
These heavily-guarded flights go to 80 different countries, but the majority of the people in handcuffs are headed to the Mexican border.
---
"A lot of these people, it's their first flight. So they're pretty anxious about that, and what's going to happen to their future," said Jim Donaldson, who supervises ICE flight operations.
"There's drug dealers, there's violent criminals," Donaldson said about some of the type of people transported. "We're taking the criminal element off the street. That's important."
As far as the number of deportees, Donaldson said, "The average is about 4,200 a week, is what we're doing, by last count."
These heavily-guarded flights go to 80 different countries, but the majority of the people in handcuffs are headed to the Mexican border.
"I can't think negative because if I think negative, negative things might start happening," Hernandez said. "So I got to stay positive and succeed in whatever I do once I get down there."
This flight went from Salt Lake to Las Vegas and picked up more deportees, then to El Paso for more. Afterward the plane headed for Harlingen, Texas, with a total of 130 prisoners aboard.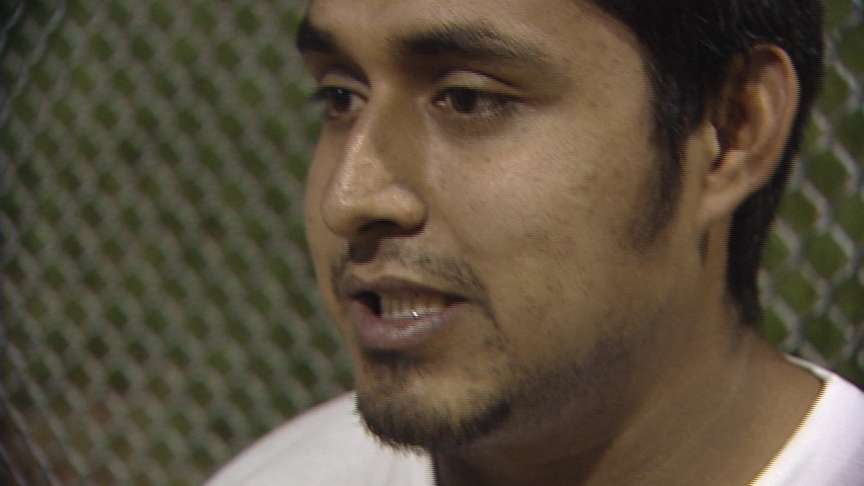 Everyone knows, some deportees will turn around and sneak right back into the U.S.
"There's people on here, it's not their first time," Donaldson said with a laugh.
Immigration attorney Aaron Tarin says many people arrested by ICE agents get so frustrated sitting in jail they agree to be deported, and take a round trip to Mexico.
"In reality, the plan is to come back in to support your family," he said.
Donaldson just says, "We have job security. It's always going to be like this."
By the time the plane lands in Harlingen, the sun is setting. It's getting dark as buses head for Brownsville. When the Gateway Bridge is in sight, it's nighttime.
Perez gets his cuffs off just before crossing the border.
"I mean, this is my country, Mexico, but I don't know anything of it," he said.
Walking across the bridge, he worries about thieves and assassins ahead of him, his family behind him.
"Yeah, I've already cried twice, on the frickin' bus, yeah," he said.
As he leaves the U.S., he says it's forever.
"I'm trying to hang on because it's a rough world out here," Perez said.
Perez was deported as a result of a DUI conviction two years ago and a drug possession charge five years ago. He hopes to hook up with his grandfather and an uncle he barely remembers.
His wife and son will join him in Mexico in a couple of months. They're both native-born U.S. citizens.
E-mail: hollenhorst@ksl.com
---
×
Photos
Related stories
Most recent Utah stories